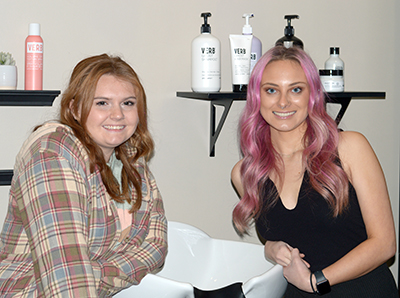 Emily Trent of Morristown and Faith Meadows of West Knoxville have partnered to open Ivory & Sage Hair Studio in Saah Salon Suites, 102 S. Campbell Station Road. Their first day was Saturday, Nov. 5.

Trent and Meadows offer cut and color for men and women. While Trent serves the women, Meadows cuts and colors hair for both men and women.

Trent said what sets them apart is "no judgement and a safe home environment."

The two women were "beauty school besties, and then we worked at another salon for three years," Trent said. "Then we decided we couldn't work without each other, so" the two went into business together.

They chose a salon suites environment because "we wanted to go above what we thought we could do, and do the stuff we wanted to do and expand," Meadows said. "We wanted to open up more and be free."

Meadows said she used to cut and color her mother's hair, which led to friends asking her to "do their hair."

After graduating high school, she went right into beauty school.

Trent recalled she always "liked being" at the hair salon with her mom as a youth.

She started taking cosmetology classes in high school. After graduating, Trent said she went to beauty school, where she met Meadows.

The salon is open from noon to 7 p.m., Tuesdays and Fridays; from 10 a.m. to 5 p.m., Wednesday and Thursdays; and from 9 a.m. to 2:30 p.m., Saturdays. Appointments can be booked online through Instagram and Facebook, by e-mail at ivorysagehairstudio@gmail.com or by calling 865-443-5650.