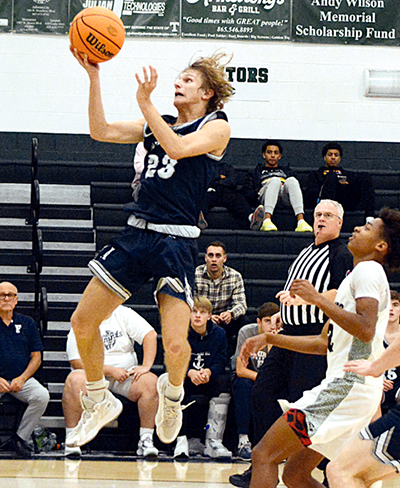 KNOXVILLE — A 2-1 week to begin the season included a weekend doubleheader for Farragut High School boys basketball.

A game-high 23 points from senior post Dallas Carbaugh led the Admirals to a 65-55 victory against Karns in Carter's Jim Williams Gymnasium Saturday afternoon, Nov. 19, which was the second of three Hall of Fame Games played last week.

Dominic Vanacker, a sophomore guard, scored 14 in the win, followed by senior post Tyson Jackson and freshman guard Parker Lane who each added 10 points. Tony Spadafora scored six.

The Admirals' 18-15 lead after one quarter grew to 33-30 at the half. Farragut led 46-41 after three quarters before ending with a 19-14 edge in the final frame.

Farragut 67 McMinn 55

Carbaugh (16 points), Lane (15) and Vanacker (12) led the Admirals in a season-opening Hall of Fame Game victory, beating McMinn County 67-55 Thursday night, Nov. 17, in Athens. Preston Fuller scored eight for FHS, followed by seven from Luke Johnson

Carter 63 Ads 49

Carter used a strong second quarter to hand Farragut its first loss of the season, 63-49 at CHS in the second game of that Saturday doubleheader.

Lane led the Ads with 11 points. Vanacker scored eight — all in the first quarter, as FHS led 15-13 after one frame.

But the Hornets outscored FHS 16-6 in the second quarter, taking a 29-21 lead it would not relinquish.

A Claudio Song driving basket cut the CHS lead to 33-30, but an 11-2 Hornets run made it 44-32 after three quarters.

Carbaugh added seven points for Farragut, while Berkley Naro scored six and Brevin Swartzentruber added five points.