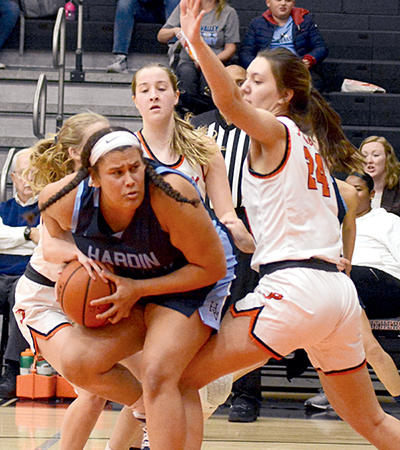 POWELL — Getting red-hot shooting from long range in the second half, Hardin Valley Academy's girls ended last week 1-1 after a 57-33 victory at Powell Thursday night, Nov. 17.

The Lady Hawks did this without one of the team's projected leading scorers, junior forward Gracie Waite.

In the second half, "We were able to knock some shots down (and) we made some defensive adjustments," HVA head coach Jennifer Galloway said. "We got some stops, which led to transition points."

Individually, "Lexi (Hall) had a good shooting night, she had six threes," Galloway said, as the senior guard scored a game-high 18 points. "And we had some inside play from Kamiyah (Love, sophomore post who scored 11) that helped open up some of the outside stuff. Our box-outs were a lot better tonight, too."

Ava Claire Wrather also scored 11. Madison Smith, a freshman, added eight. The Lady Hawks led 14-7 after one quarter and 23-15 at halftime before HVA's shooting heated up. It was 39-25 Hardin Valley after three quarters.

Galloway said she did not know when Waite would return to the lineup. Her reason for being out of action was not disclosed.

Halls 51 HVA 46

"It was a close loss. Halls is a good team and a very veteran team," Galloway said about the Tuesday, Nov. 15, season opener at HVA. "Some of the things we want our identity to be offensively, and some of the things we want our identity to be defensively, we kind of got away from."

Love led Hardin Valley in scoring with 15, followed by Hall with 12 and Smith scoring eight.