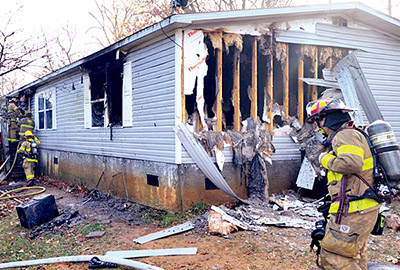 Within hours of a devastating house fire Saturday morning, Nov. 26, the Farragut community rallied around Danny and Kelly Kissiah and their seven children — Brittany, Mason, Jonathan, Ayden, Allyson, Sarah and Hannah — collecting clothing, gift cards and providing shelter for the family.

At first, authorities were alerted a child had been trapped, but by the time firefighters arrived the child had managed to escape.

"All were safe and accounted for when crews arrived," stated a report from Rural Metro.

However, their home, located in the 11000 block of Woody Drive, was heavily damaged. They also lost three beloved cats in the fire.

"We lost everything," said Brittany Baggs, Kelly's oldest daughter and recent college graduate who was living with her family at the time of the fire.

According to a report from Rural Metro, firefighters responded at 9:20 a.m. and discovered flames showing through a window in the front right corner of the home.

"Fire damage was contained to the room of origin, but the home sustained heavy smoke and heat damage."

The cause of the fire is being investigated, according to Rural Metro.

Social media posts began almost immediately, seeking assistance, clothing and shelter options.

While the American Red Cross is assisting the family, the voucher they were given for lodging could not be confirmed without identification, which the Kissiahs had lost in the fire.

Instead, members of the community volunteered shelter, and hundreds more immediately provided clothing, gift cards, money and personal hygiene items listed on a specially created Facebook page, Farragut Fire Help, which is constantly being updated with needs met and needs remaining.

"I have been blown away by the immediate and abundant response from Farragut families today when the needs were shared," shared Kristi Casey, who has helped coordinate a community response to assist the family. "They have shown true Admiral spirit, and I couldn't be prouder to call this Town my home. Thank you to each and every person who jumped in with help."

While many clothing items were donated during the weekend, there remain specific needs for Danny (size 30/30 jeans/pants, medium shirts) and Kelly (size 3 jeans, medium shirts).

The Kissiah's youngest, Mason, turned 7 years old the day of the house fire — a birthday he shares with big sister, Brittany — and firefighters personally went to Kroger to get him a cake, Kelly shared.

Gift cards for the family, and various foods and items at grocery stores, fast food establishments, restaurants — including pizza places — Walmart, Dollar Tree, Dollar General, CVS and Walgreens also are suggested.

Specifically, there is a need for donated laundry detergent to enable the family to clean what they can salvage from their home.

Baggs, who currently is staying with friends, said she would appreciate any donations of gift cards to help her replace her wardrobe and other items she lost.

Additional needs include bath towels and toiletries, and Christmas gifts for the children.

The family also is looking for a long-term rental house at a very low monthly cost.

First Baptist Concord has stepped up to offer assistance. Contact Victor Lee, pastor of Care and Benevolence. for donations or long-term rental suggestions.

Drop off for clothing donations is at Farragut Primary School, while additional donations are being accepted at the farragutpress office, 11863 Kingston Pike, during regular business hours, which run from 9 to 5 p.m., Monday through Friday.

Both FPS and FIS officials have offered needed school supplies for the children.

A family friend also has started a gofundme page for the family at, https://gofund.me/def6dc7c.