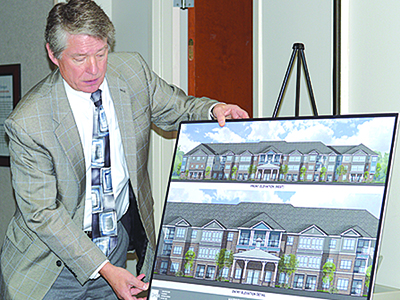 Seeing a need for more senior living options, Farragut IL-AL Investors, LLC, and Smith/Packett, a family-owned senior living development company, presented Harmony at Farragut, a comprehensive senior living community to Town leaders.

Basic features of the proposed community, which would be placed on 11.38 acres owned by local developer Doug Horne, were presented during the Town's Staff/Developer meeting Tuesday morning, Nov. 29.

(Horne is owner of Republic Newspapers, Inc., parent company of farragutpress)

"The way (S/P) positioned this, to me, benefits all the parties involved," said Michael Patterson, Horne Properties, Inc., executive vice president, representing the Hornes and HPI.

The property is located along Village Commons Boulevard, between The Villages of Farragut, 230 Village Commons Blvd., and farragutpress, 11863 Kingston Pike — and north of Ingle's.

"I think it's a win-win for all three parties," Patterson said. "It's a win for Horne Properties, Inc., Smith/Packett and the community.

"We went from all these multi-family guys calling to (a company seeking Community Service) S-1 right beside an existing S-1 (The Villages of Farragut). … It just worked harmoniously right there," he added.

The developers are expected to discuss the proposed community with Farragut Municipal Planning Commission during its next meeting, which is scheduled to begin at 7 p.m., Thursday, Dec. 15, in Farragut Town Hall. They are requesting Parcel 069, Tax Map 142 be rezoned from Office (O-1) and Rural Single-Family Residential (R-1) to S-1.

Smith/Packett also is requesting an amendment to the Town's Future Land Use Map from Office/Light Industrial and Medium-Density Residential to Civic/Institutional.

"Ten acres is a minimum lot size for a senior living (facility)," Farragut Community Development director Mark Shipley said. "There also is a requirement in this senior living community that, if a building is within 100 feet, the height has to be the same as the adjacent residential area (Baldwin Park and Waverly Court), so make sure your buildings are 100 feet from the residential property."

"There is plenty of acreage to be developed and still have that 100 foot buffer all the way around our footprint," said Joe Conver, SIP development manager

The rezoning "really doesn't affect Boring Road, over here to the east, at all at this point," Shipley said. "We're really not going to get into a design discussion. It's really just whether the zoning district that they're requesting is appropriate for the area and the context.

"This whole area through here (Boring Road corridor) was part of a study area, where we looked at, with the community, basically about the past year and made some amendments to our Future Land Use Map based on community input," he added. "So, all of this here is Medium-Density residential."

Smith Packett submitted a proposed site plan that depicted a comprehensive facility encompassing independent living, assisted living and memory care.

"What we're proposing here is the continuum of care under one roof," Conver said. "We have no idea of expanding to the north, south, east or west, so it is one footprint.

"We have, roughly, no more than 200 rooms inside that footprint, and no more than 65,000 liveable square feet," he added. "We have a sister company that falls within that scope, which makes the transition from development to operator (to) Harmony Senior Services. (Harmony) knows exactly what we like and … what works and doesn't work."

Additionally, there will not be a road going onto Boring Road.

"I think when we do have a site plan, you do need a stub out (for another road)," Farragut Mayor Ron Williams said.

"You'll want to have walking trail connections," Shipley added. "I know that the walking trail at The Villages connects to Baldwin Park, and it gets a ton of use."

"Mr. Horne is amenable to that," Patterson said.

Conver said S/P, founded in 1982 while developing or acquiring more than 150 senior living and long-term care communities, is planning three-storied structures.

Conver said Harmony residents do not have school-aged children, so the senior living community will not burden the school system, nor will it impact traffic as "most senior residents do not drive.

"Communities offer scheduled transportation and trips via a shuttle for our senior residents," he added.