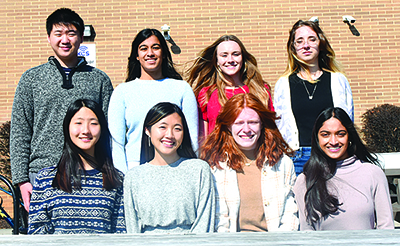 Eleven students from Farragut High School, Hardin Valley Academy and Bearden High School recently were named 2023 National Merit Scholarship Program semifinalists.

FHS semifinalists are Raina Desai, Eyrin Kim, Justin Li, Irene Mamontov, Ridhima Singh, Caroline Smith, Claire Wingard and
Claire Zhou.

Elijah Johnson was HVA's honoree, while Stephanie Cho and Sarah Geibig earned those honors as BHS students.

"The nationwide pool of semifinalists, representing less than 1 percent of U.S. high school seniors, includes the highest-scoring entrants in each state," an NMSP press release stated.

"... To become a finalist, the semifinalist and a high school official must submit a detailed scholarship application, in which they provide information about the semifinalist's academic record, participation in school and community activities, demonstrated leadership abilities, employment and honors and awards received," the release further stated.

"Finalists will compete for one of $2,500 National Merit Scholarships that will be awarded on a state-representational basis."

BHS's National Merit Commended students Nathan Brusseau, Josie Galehouse, Jacob Reinbolt, Naomi Winn and Josiah Yeow "scored in the top 34,000 students in the nation," said Susan E. Bolinger, BHS director of college counseling and ASCA certified college admissions specialist.