Despite big man out, Ads roar back, beat BHS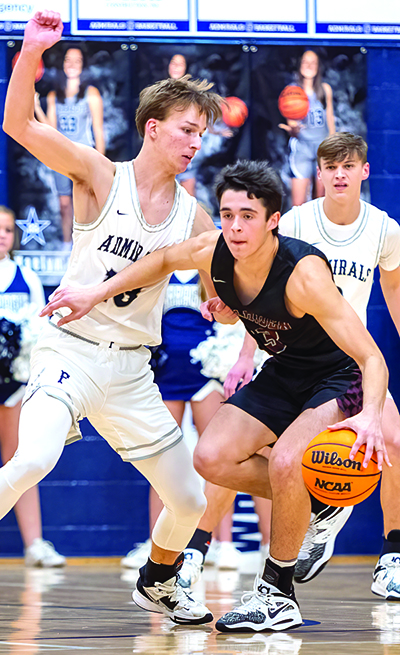 Down 40-29 after losing its biggest and most experienced player — and one of the team's top overall performers — to a knee injury, Farragut fell behind Bearden 40-29 with 1:50 left in the third quarter.

But a pair of three-point baskets from junior wing Aiden Vanacker and a driving score from freshman guard Parker Lane in the final 1:33 cut the Bulldogs lead to 40-37 with eight minutes to play.

Farragut's 16-0 run, the difference in an eventual 57-52 Ads District 4-AAA victory against its Maroon rival Friday night, Dec. 2, in FHS's Lynn E. Sexton Gymnasium, saw the home team turn back a 7-0 BHS fourth quarter run.

"It feels great," Aiden said about the program's third win versus Bearden in the last five meetings spanning two years.

"People stepped up when they needed to step up," he added about overcoming the loss of Carbaugh.

"We just kept our heads into it; we knew what we had to do even with Dallas out," said Dominic Vanacker, a sophomore small forward who scored eight of his 13 points in the final frame.

"It's an exciting feeling. It was an electric atmosphere," said new Admirals skipper J.P. Burris, whose team improved to 5-2 entering this week while winning its first district game.

"They came up big when we lost a key cog," he added. "They rallied around Dallas.

"But I think tonight, guys accepted their role. We've been preaching a lot about 'what you're capable of, what you're not capable of doing.'"

During that 16-0 run, a technical foul on Bearden "was a big momentum swing," Dawgs head coach Jeremy Parrott said. "We were still in control of the game with a lead."

Two Lane free throws tied the game at 47-47 before his fastbreak lay-up with 2:42 remaining put the Ads ahead for good. Dominic connected on a 10-foot baseline jumper making it 51-47 with just 1:38 left.

Lane and Aiden Vanacker combined to go 10 of 12 at the free throw line in the fourth quarter, as Farragut led 53-47 with a minute to play.

The freshman guard finished with 13 points. Aiden had 11.

About Lane, Burris said, "He's a fierce competitor. ... He came up big tonight."

Senior post Tyson Jackson, asked to step up his game with Carbaugh injured, scored nine points while grabbing a huge offensive rebound late.

Jackson said the key was "keeping our heads level and being able to play as a team and trust each other."

As the team's leading rebounder according to Burris, "Tyson played phenomenal," the coach said. "He was our emotional leader and our energy guy tonight."

Senior wing Luke Johnson added seven points for FHS while Carbaugh scored six before his injury, which happened near midcourt with 1:43 left in the first half.

Drew Brillhart, Bulldogs junior wing, led his team in scoring with 13. Jake Poole added 10 and King Hubbard eight.

Bearden fell to 3-2 after a tough 69-68 loss to Cleveland at home Monday, Dec. 5, despite senior post Tyson Pirtle scoring a team-high 21.