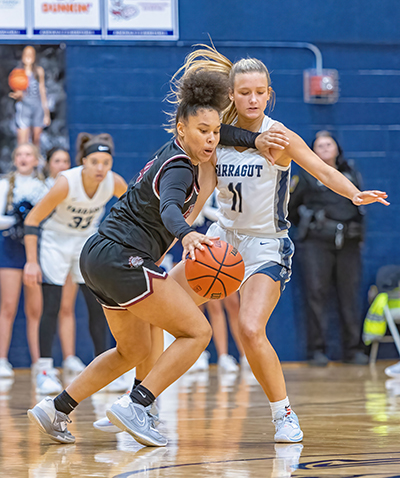 A talented freshman guard's breakout game, coming against a rival, plus a defense holding Farragut without a field goal for more than 12 minutes — more than eight minutes without a point — proved to be the difference.

The defending Class AAA state champion Bearden Lady Bulldogs (8-0 starting the week) got 20 points from freshman guard Natalya Hodge and pulled away midway into the second quarter, building a 19-point lead then hanging on for a 49-41 District 4-AAA win at FHS's Lynn E. Sexton Gymnasium Friday night, Dec. 2.

"Between (Hodge) being able to do that, and Rachael Wilhoit hitting some big threes in the first half (15 points total), I thought those two did some great things on the outside," said Bearden head coach Justin Underwood, whose program won its 30th straight game dating back to the 2021-22 regular season.

Ending the second quarter on a 9-2 run to lead 27-20 at halftime, Bearden's advantage grew to 39-20 as Hodge scored the Lady Bulldogs' first 12 points in the third quarter — nine on a trey of three-point baskets.

Meanwhile, the Lady Admirals (5-2) didn't score in the third frame until freshman wing KJ McNealy's three-point basket with five seconds left in the quarter.

"Defensively is what we're going to hang our hats on," Underwood said, as BHS used a base 1-2-2 defense to greatly limit Farragut in the second and third quarters. "So far this year I think they're ahead of what I would have expected defensively."

This all happened for Bearden despite senior star post Avery Treadwell scoring only five points. "If you told me Avery had single digits and we won at Farragut, I'd take it every day of the week," Underwood said.

However, the Lady Ads cut a 42-23 deficit with under seven minutes to play to 46-38 on sophomore point guard Annie Priest's three-point basket with 1:19 to play.

"We battled, which is what I would expect our girls to do," Farragut head coach Jason Mayfield said. "... There's a lot to learn from this game for sure."

McNealy led FHS in scoring with 12. Priest and Annalise Bishop each had nine.