Lawrence raises $6,000 for East TN Children's Hospital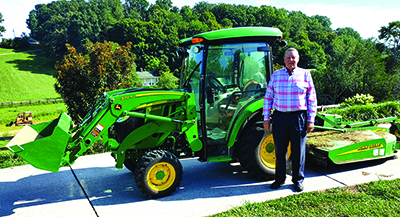 Given that "Children's well-being has a special place in my heart," Ron Lawrence took an unusual journey to raise money for East Tennessee Children's Hospital in downtown Knoxville.

Spending seven days in the cab of his tractor traveling East Tennessee roads and highways as part of a "Miles for Miracles project," this Rotary Club of Farragut past president raised $6,000.

Going from Crossville to the Chattanooga metro area, then trekking northeast well above Knox County, Lawrence ended up at ETCH.

"I just felt a drive to do something for others and especially children," said Lawrence, who presented the "Miles for Miracles" banner to RCF president Megan Belcher during the club's meeting in Fox Den Country Club Wednesday, Nov. 16.

"Even though this seven-day journey is over, the opportunity for others to donate is not," he added. "If anyone wishes to donate, they should do so through the Farragut Rotary Club Foundation," a 501 (c) (3) charitable organization. All gifts are tax deductible and 100 percent of donations will go to East Tennessee Children's Hospital."

Donations can be mailed to Rotary Club of Farragut Foundation, 10805 Kingston Pike, Suite 200, Farragut, TN 37934.

"Other than being in a cramped cab and no suspension for comfort, the trip was amazing, though tiring," Lawrence said. "The weather was so great that I used A/C the entire trip.

"My final route began at Crossville (Saturday, Nov. 5), then to Dayton, then Cleveland and then Lenoir City, at home," he added. "After a good night's rest, I went to Sevierville and on to Greenville via Newport."

After reaching the furthest northeast point of the journey, "the next stop was Jefferson City, where I spent the night with (the Rev. David Bluford) a fellow Rotarian and his wife," Lawrence said. "Friday morning, I left Jefferson City and arrived at Children's Hospital at 2 p.m. (Friday, Nov. 11).

"The daily planned distance was all I could stand, even though I stopped for breaks and lunch."

Because of the rain, the reception was very limited and ended quickly.

"Each day (of the seven-day trek), I drove between 50 to 60 miles at an average speed of approximately 12 to 15 mph," Lawrence said. "In essence, I covered a major portion of East Tennessee.

"Along the way, I met some very good people who supported this effort," he added.

For example, "Athens City School District surprised me with a balloon welcome and lunch in Athens," Lawrence said. "This was amazing."

Additionally, "some 'sister' Rotary Clubs hosted me, which was greatly appreciated," he said. "... I had strangers en route that committed to donate to this cause," hr added.

He also expressed appreciation to Farragut Rotarians Scott Bertini, Wayne Davis, Sonya Ford, Jim O'Brien, Bluford, Megan Belcher and Julie Blaylock for their help.