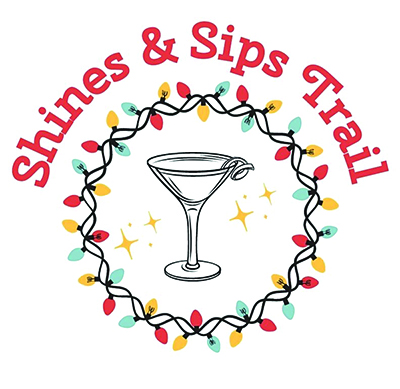 Adding further incentives to visit Farragut's various restaurant and beverage options, Visit Farragut has introduced a new fun "Shines & Sips Trail" to highlight just what the Town has to offer through Saturday, Dec. 31.

Six Farragut businesses are participating in the inaugural event: Seasons Innovative Bar & Grille, 11605 Parkside Drive; Daddy Mac's Down Home Dive, 11335 Campbell Lakes Drive.; Admiral Pub, 143 Brooklawn St.; Water into Wine bistro & lounge, 607 N. Campbell Station Road; Summer Moon, 104 N. Campbell Station Road; and 35 North, 11321 Kingston Pike.

Punch cards, available at any of the six businesses, can be filled out and signed by staff at each site upon purchase of a "featured drink." Patrons who have three "punches" are then eligible for a prize from Visit Farragut staff, tentatively set to be in Founder's Park at Campbell Station from 6 to 8 p.m., Thursday, Dec. 15, and Sunday, Dec. 18.

Beginnings of the "Trail"

While the "Trail" idea is not new in larger locales, it was new to Farragut, and was suggested and facilitated by Tourism assistant Hallie Riddle.

"I lived for some time in the Nashville area, and they are always having some kind of 'trail,' highlighting different business and occasions," she said. "I thought it would be something great to do here."

"As a team, we are always looking for new and creative ways to increase visitation to our businesses that is fun for both residents and visitors," Tourism manager Karen Tindal added. "It all came together when we started thinking about Light the Park. We first talked through what businesses would be a reasonable 'walkable' distance for someone enjoying the lights and staying in our hotels. That lead us to quickly identify businesses, and we were able to get six to participate.

"Hallie took the lead with all of the details from designing the logo, festively photographing the trail drinks, created the social media campaign and even creating a digital drink trail map," she added. "As of Dec. 12, we have had over 2,000 views of the map and that number continues to go up everyday.

"We are hoping it will be successful and lead to other 'trail-type' incentives that really showcase the great businesses offerings we have in Town. It is also a great opportunity to educate folks on how tourism incentives can benefit everyone."

For those preferring a paperless option, patrons may share pictures of at least three "Shines & Sips Trail" drinks, then tag @VisitFarragut on a social media post, using #ShinesAndSips and #VisitFarragut.

For questions, or if the dates don't work for potential prize winers, message Visit Farragut on Facebook or Instagram, or e-mail visitfarragut@townoffarragut.org.