MaDella Organics incorporates natural products to treat variety of ailments in home venture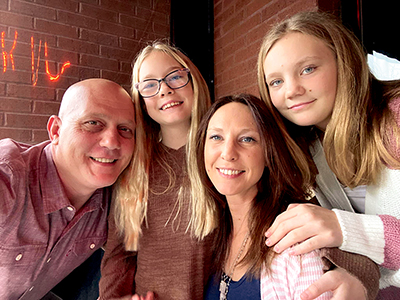 After being given a grim health prognosis for her daughter, Della, Andrea Pfisterer began searching for curative elements, which led to both healing and a passion for helping others.

Today, Pfisterer, who lives just outside of Farragut, owns and operates MaDella Organics — named for both Della and her older sister, Macie — which aims to naturally heal a variety of ailments.

"Della suddenly became a very non-responsive child around the age of 2," Pfisterer recalled. "I was told by doctors that she would never talk to me and would be on medication for the rest of her life.

"I understood nothing natural at that point and believed in the power of nature to aid in our healing even less — until that moment," she added.

"Something inside me told me to dig deep into something I didn't understand to find her healing. I did that — and I guess the rest, you could say, is history."

Living in Colorado at that time, Andrea said she was unsure where exactly to begin, but started researching remedies for her daughter's symptoms, then began experimenting at home with all natural products.

Della ultimately responded, and as Pfisterer began treating the rest of the family — including her husband, Chris Pfisterer — she also started sharing information and products with others, and saw how it helped them, too.

Around this same time, wanting to ensure the natural ingredients she used were safely working together, Pfisterer became certified as a Master Clinical Herbalist.

"Anyone can blend essential oils and herbs, but I wanted to truly understand the science behind it and offer people the comfort of knowing when you work with (me) you are working with someone that is educated in that field," she said.

Beyond that, she also is respectful of her clientele's backgrounds, health concerns and needs.

"I am truly grateful for the opportunity to work with so many people on their, or their children's, health journey," Pfisterer said. "Whether they choose to go completely natural or use herbalism in conjunction with other modalities, we are happy to be a part of it. We all have a different health journey, and yours will always be respected and supported when you work with us."

Intake forms are typically "10-12 pages long — we want to know (our clients) and work with them accordingly," she continued. "We want to understand spiritual health, stress level, exercise routine, past traumas. ... We may suggest chiropractic care, acupuncture, a psychologist, certain exercises or energy work. ... Whatever we feel would be beneficial to the individual."

Pfisterer also works with clients' primary care physicians "to ensure complete safety" with an individual's health plan.

All products Pfisterer uses are organic and made with Therapeutic Grade essential oils. She carries Elderberry products, herbal baths and teas, therapeutic roller bottles, energy sprays, an all-purpose salve, items for respiratory support and a line of aromatherapy bracelets.

She has set up at area markets in Knoxville and throughout the region, from Tellico Plains to Maryville and Lenoir City, and offers "Meet the Herbalist" pop-ups by invitation in local businesses.

"These are two-hour slots where I bring all the herbal remedies you love right to you — set up in your breakroom or open conference room — you can order ahead or just pick up at your convenience during the event," she said.

A native of Tupelo, Mississippi, Pfisterer and her husband moved to Knoxville in 2020.

"While we loved Colorado and the experiences it offered, it was time to make the move. East Tennessee fell in our laps and we couldn't be happier.

About her growing business, Pfisterer said, "The journey to get here wasn't the easiest one, and while I wouldn't wish having to find true healing for your own children, I am grateful for the struggles as they brought me to where I am today."

For more information, visit MaDella Organic's Facebook page, or its website, madellaorganics.com.