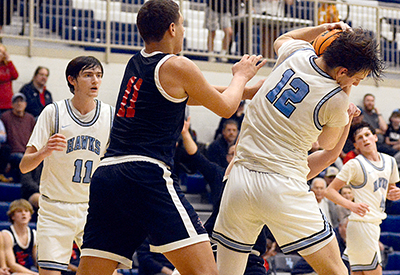 HARDIN VALLEY — In one way, Hardin Valley Academy's 12-point victory versus South-Doyle, 68-56, was a bit misleading.

The Cherokees came to HVA Friday night, Dec. 9, and hung around despite trailing 30-19 at halftime — and by as many as 16 points, 35-19, about one minute into the third quarter.

The visitors closed the gap to six, 44-38, after three quarters, and got within five twice with just under two minutes to play.

Making matters more precarious was Hardin Valley's foul problems, as senior post Jack Smith picked up three in the first half and his fourth midway through the final eight minutes.

"We got into some foul trouble. ... It was a weird game in the first half, a lot of fouling," said HVA head coach Andrew Arendt, whose team improved to 5-2 overall with the win.

"It's tough to get a rhythm, the game gets choppy," the first-year Hawks coach added about the fouls.

But ahead 59-53, the Hawks kept SDHS from making it a one-score game with a clutch rebound from sophomore forward Barron Sheetz. Just five seconds later, sophomore wing Ben Brophy nailed a three-point jumper to give the Hawks a 62-53 edge with only 1:11 remaining in the game.

The visitors never got closer than within eight before HVA's final surge to win by 12.

Individually for Hardin Valley, Brophy and senior wing Amadou Seck each led the Hawks in scoring with 13 points. A.J. Gray added 10 points, with Sheetz and Bryson Frey scoring eight apiece.

"I though Amadou Seck was good throughout," Arendt said. "i think he affected the game at the rim, I think he made his free throws (nailing seven of nine) and a couple of good layups.

"When Amadou locks in defensively is when he's at his best," the HVA coach added.

"We don't need him to score, really, but we need him to play great defense — and he did that tonight."

Elsewhere on the roster, "Bryson Frye did a good job filling in at point guard," Arendt said. "And Ben Brophy shot the ball well."

Smith scored seven for HVA, while Hakeen Rashid finished with five points. Will Fellers added four.

HVA at Farragut

Hardin Valley began its District 4-4A schedule with a showdown at rival Farragut Tuesday, Dec. 13 (after deadline).