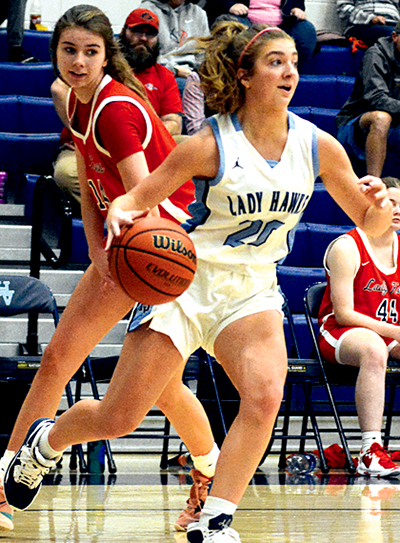 HARDIN VALLEY — Perhaps Hardin Valley Academy's Lady Hawks would have beaten South-Doyle even with a cold start shooting.

But with a number of HVA girls drilling shots from long range in the first half, the task was much easier during this home game Friday night, Dec. 9. The Lady Hawks rolled past the Lady Cherokees 69-46.

"I liked that we eventually responded to some of the things I was telling them," which included being "able to get out in transition some," HVA head coach Jennifer Galloway said.

Getting out of the gate fast in the first quarter by building a 19-7 lead that grew to 45-21 by halftime, "We shot well in the first half," Galloway said. "We were able to get some of those off of transition.

"We were able to read some of the stuff they were giving to us with their defenses — they were mixing up their defenses," she added. "We were able to adjust to some of the things they were doing on defense."

Improving to 4-3 entering this week, Hardin Valley began its District 4-4A schedule with a showdown at rival

Farragut Tuesday, Dec. 13 (after deadline; visit farragutpress.com for game details).

As for the Lady Hawks' balanced scoring, they were led by sophomore guard Kamryn Butcher's 15 points — which included a trey of three-point jumpers — followed by junior forward/wing Gracie Waite with 12 and freshman Madison Smith pumping in 10.

Lily Adkisson scored nine and Kamiyah Love added eight points. Lexi Hall scored six, with Kyndra West contributing four. Two points each were scored by Bella Buccola and Ava Claire Wrather.