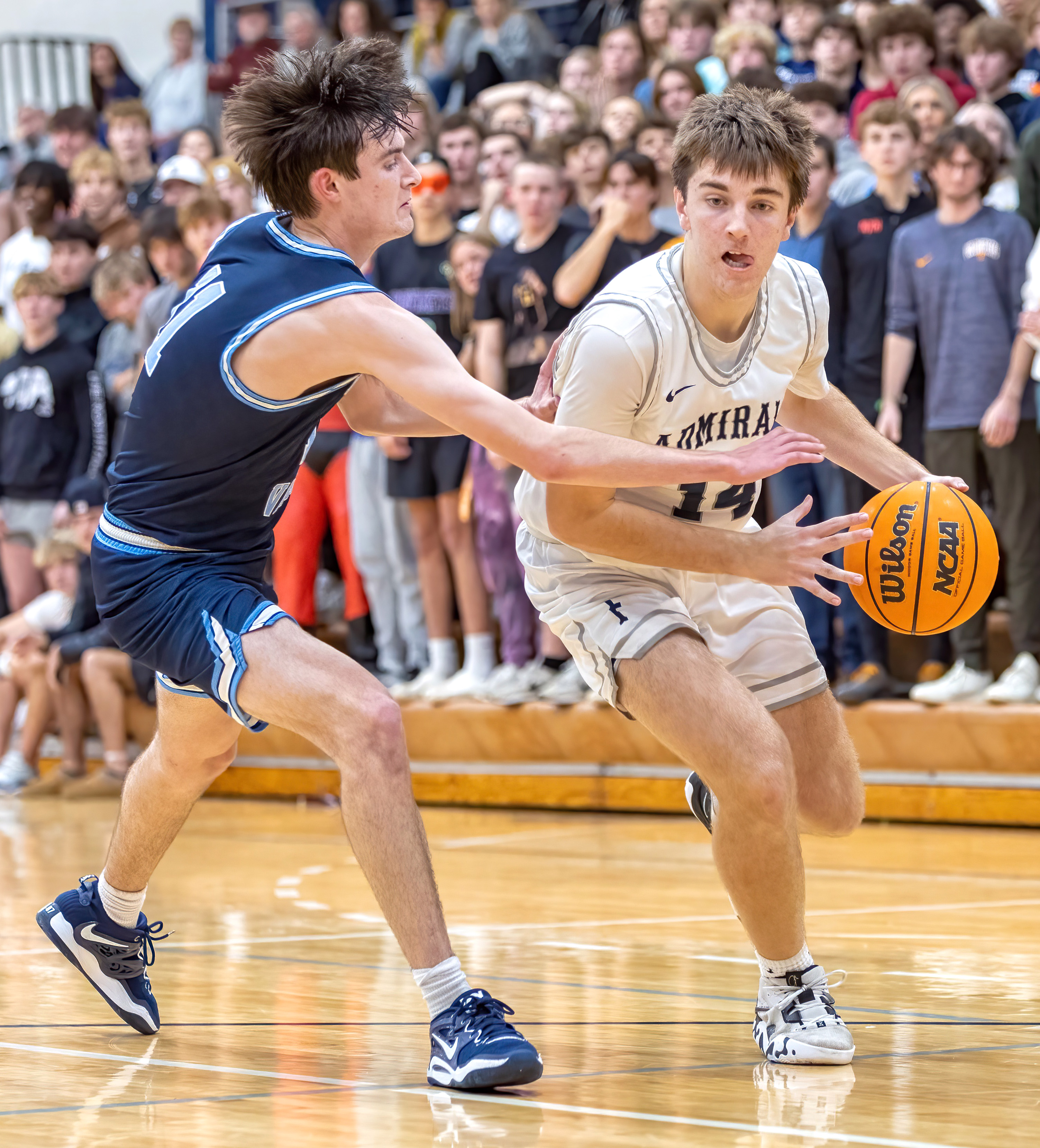 No member of Hardin Valley Academy's 2022-23 boys basketball team had ever beaten rival Farragut.

Judging by a few hundred from the HVA student section, who joyfully stormed Donald Dodgen Court inside FHS's Lynn E. Sexton Gymnasium, that all changed Tuesday night, Dec. 13.

The Hawks used a 7-0 run late in the first quarter to turn a 14-9 deficit into a 16-14 lead after eight minutes.

Another strong run late in the second quarter helped Hardin Valley take control, and the Hawks fought off a fourth-quarter rally by the Ads to win 67-56.

"It feels like relief, really," said Jack Smith, HVA senior post whose 15 points led the Hawks (6-2 overall, 1-0 in District 4-4A). "It's a big district win. We've just got to keep going.

"We played together, we played as a team," Smith added. "We stuck together and didn't fold."

Hawks guard Hakeem Rashid added 14 points, with sophomore wing Ben Brophy scoring 10.

This win "means a lot for our team," Rashid said. "Last year, I remember coming in here and it being a blowout (loss). Just getting revenge is great, even though they're missing a key player (FHS starting senior post Dallas Carbaugh, out with a knee injury)."

"That was a nice win," said Hawks first-year head coach Andrew Arendt, a former FHS Lady Admirals assistant coach. "There's a lot of woven ties with these two schools and coaching staffs," with Farragut first-year head coach J.P. Burris a former HVA varsity boys assistant.

About keys to Hardin Valley's win, "I told the team at the beginning of the game, 'the tougher team will win,'" Arendt said. "We haven't always been the tougher team, but they rose up to the challenge — and tonight they were.

"That's what makes me the proudest of them."

After Farragut senior post Tyson Jackson hit an 8-foot jumper to give the Ads a 26-24 lead with 2:17 left in the half, HVA used three-point jumpers by Hunter Frey and Brophy, plus a fast-break lay-up from Amadou Seck to go up 33-26 in the closing seconds of the first half.

Bryson Frey's half-court three-point basket at the buzzer gave Hardin Valley a 36-28 halftime lead it would not relinquish.

While the Ads twice got within four in the third quarter, A.J. Gray's three-point jumper gave the Hawks a 46-36 lead late in the quarter. It was 46-38 entering the fourth.

A 7-0 Farragut run cut a 53-43 HVA lead down to 53-50 with 3:50 remaining, keyed by an Aiden Vanacker three-point jumper and a Parker Lane fast break lay-up.

But four late points from sophomore post Barron Sheetz, on a driving basket followed by two free throws, boosted the Hawks' late run to win comfortably.

Farragut (5-6, 1-1) was led by sophomore wing Dominic Vanacker's game-high 23 points, followed by Lane, a starting freshman point guard, with 18.

"We didn't compete for a full 32 minutes," Burris said. "They beat us to a lot of those 50-50 basketballs. When you're playing a team that was playing as hard as they were, you can't have that happen.

"We've got to match their energy," the first-year Admirals skipper added.

Other HVA scorers were Bryson Frey with nine followed by three Hawks with five each: Gray, Hunter Frey and Scheetz. Seck ended with four points.

Other Admirals scorers were Jackson with seven, Aiden Vanacker scoring five and Preston Fuller nailing one three-point jumper.