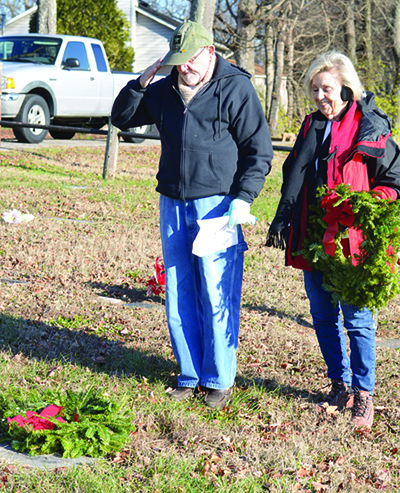 For the first time, deceased veterans interred at Concord Masonic Cemetery, located along Second Drive in Old Concord, had a wreath placed on their graves as part of Wreaths Across America Friday morning, Dec. 16.

About 20 volunteers, many of whom were veterans, braved temperatures in the 30s to place wreaths on 165 graves, then said the veterans' names so they would be remembered.

"Veterans die twice," said Marilyn Childress, president of Veterans Heritage Site Foundation. "Once when he physically dies and a second time when he's forgotten."

"I am so grateful for those that came out to help with this project," said Mona Isbell Smith, a member of the Concord Masonic Cemetery Committee.

"It was truly a community effort.

"I am so honored to have the privilege of recognizing these men who sacrificed so much for our freedoms," she added. "They deserve to be recognized. As we laid each wreath, we saluted them, thanked them and said their names out loud.

"We do not want their names to ever be forgotten."

The opportunity to have the wreaths at Concord Masonic Lodge came about after Smith was asked by Childress if the committee would like to have wreaths on the graves.

"Chota Masonic Lodge #253 F&AM are the people that are caretakers of Concord Masonic Cemetery," Smith said. "Bill McReynolds is over the Cemetery Committee and Jim Yoder is the trustee for the Lodge. Both are Lodge members."

Smith is one of eight members on the committee.

"We are a pro bono committee that have been working under Bill for the last 15 years or so to maintain the grounds and have placed the names of those interred into a computerized database," she said. "It has been an ongoing work in progress.

"Many of the graves are unmarked and very old," Smith added. "The oldest grave is that of James Monroe Smith, (1814-1865), a Civil War veteran."

As for Childress, "She is a hero," Smith said. "Marilyn and I are members of the Daughters of the American Revolution.

"The DAR promotes historical preservation, education and patriotism," she added. "Through the DAR, Marilyn had heard about my work with the Concord Masonic Cemetery and approached me about laying wreaths there."

While Smith was happy to get the wreaths, she told Childress her group could not afford to purchase them.

"Oh, no, I'm giving them to you," Childress told Smith. While most of the wreaths go to veterans in Knox County's three cemeteries, Childress said she wants to make sure all veterans get a wreath.

With this year being the first time CMC received wreaths, Smith said she is hoping to get wreaths again next year. She added there is another cemetery in Concord, and she is hoping it will be included next year as well.

"I love it," Debra Hamilton, one of the volunteers, said about placing the wreaths. "The veterans need to be remembered."

Janice Duff, who said she had family ties in the cemetery, as her great-great-grandfather, Benjamin Robertson, was a Civil War soldier. She became acquainted with the cemetery while doing genealogy research.

Volunteers took a sheet of paper depicting a grid of the cemetery, names of veterans and their locations, along with boxes of wreaths, and walked the cemetery to find the names and place the wreaths.

Smith said she was overwhelmed by the response from volunteers who turned out. Groups that attended, in addition to the committee, were The Old Concord Residents Association headed by Taylor Harris, The Daughters of the American Revolution General William Lenoir and Ocoee chapters, Choto Lodge members and local veterans.

Childress said another project is to have wreaths placed on all American Revolution veterans' gravesites.