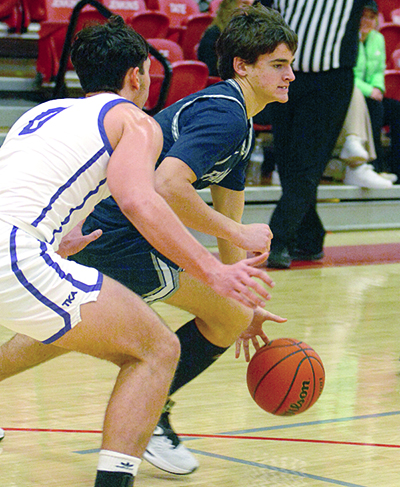 LOUDON — How good was Farragut's defense against The Kings Academy Thursday night, Dec. 22?

The Admirals went six minutes without a field goal, yet led the Lions by as many as 17 points — holding TKA without a point for more than nine minutes en route to a 51-41 victory during Loudon Christmas Classic at LHS.

Seeing an early 9-4 lead evaporate into a 22-12 deficit early in the second quarter, the Ads doubled down defensively and with hustle plays — winning more than their share of so-called "50-50" balls while a sticky defense seemed to bother TKA. The result was an 18-2 Farragut run, as FHS held a 30-24 halftime lead.

"Defense made a huge difference in that (first-half) run that we went on," said first-year Admirals skipper J.P. Burris, whose team improved to 8-6 overall starting the week, while remaining 1-1 in District 4-4A, thanks also to a 69-32 dismantling of Meigs County Wednesday night, Dec. 21.

Burris said the Lions "were beating us off the dribble and they were kicking to wide open shooters" to build the 22-12 lead.

"We backed it up a little bit, so when they tried to penetrate we had good gap help, we squared guys up, and it led to several stops in a row," he added.

About winning many of the "50-50" rebound and loose ball situations, "We've had a lot of talk since the Hardin Valley game about how we just got out-played, and our guys have really taken the challenge," Burris said. "... We've got guys who are starting to dive on the floor now. ... Our guys have done a phenomenal job of correcting everything that went wrong a week-and-a-half before."

Individually, Burris said senior posts Tyson Jackson and Preston Fuller and forward Berkley Naro "were huge" with hustle and defense.

Burris also praised "the way Tyson and Berkley battled inside" against TKA's standout interior scorer Damjam Simon, who led the Lions in points with 17,

"Dom (Vanacker) switched over to guard him and slowed him down," the coach added.

Meanwhile, "Preston is just a great leader for us," Burris said. "... He's been our vocal leader as far as getting guys to (hustle)."

"it was just effort — who wanted it more?" said Fuller, who scored eight against TKA.

"... We put our foot on the gas, kept doing the little things, played as a team and got the job done," he added.

Offensively, Dominic Van-acker, a sophomore wing, led Farragut in scoring with a game-high 21 points.

"Dom had a great game on both sides of the ball," Burris said.

Parker Lane, FHS freshman point guard, scored 10.

FHS 69 Meigs Co. 32

Against Meigs County, Ads junior wing Aiden Vanacker scored a game-high 16, with Naro and Lance adding nine each and Dominic Vanacker eight points.