Retired attorney 'loves' Town after discovering it on his nationwide trek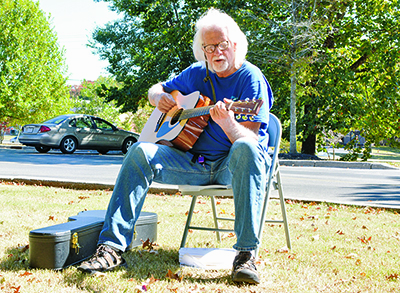 For a free-spirited retired trial attorney from San Diego who has a passion for playing his guitar in relaxing settings, Farragut and Knoxville was a natural next step down the Appalachian trail after enjoying the cool mountainous air and picturesque setting of a safe and less crowded stop: Boone, North Carolina.

Patrick Huston, 70, was found playing his 6-string Indonesian guitar — and singing some of the songs he's written — on the grassy grounds of farragutpress, just a few feet from Ingles property, on a mild October early afternoon this past fall.

He's become so impressed with Farragut, in fact, that Huston has included it among what has become his annual nationwide trek.

"Every year I take a road trip … this is like my seventh around the country," he said. "There's four beautiful cities that I like to go to and spend a little time in."

Heading up the coast from San Diego in June, Huston's first destination each year is Missoula, Montana. "All the mountains around it, and snow, it's a beautiful town," he said. "But I want to hit it when it's warm enough there.

"From there I head toward Portland, Maine, but on the way" there's quite a southeastern turn for this former attorney.

"I stop in the Blue Ridge Mountains of North Carolina," Huston said. "You know, it can get kind of cool up there, even when it's warm here."

Boone has become his annual destination "in July and August," he said. "In July it's in the high 90s in Montana, and in August it's hot in Portland, Maine, believe it or not — but in Boone it's in the 60s and 70s" because it's elevation "is 3,000 feet; and they say for every 1,000 feet it cools down 5 degrees."

Beating the heat is extremely important to Huston because his car "doesn't have air conditioning. And sometimes I sleep in the car just to save money."

After Boone, Huston said he stays in Portland in September "when it starts to get cool … for about a month."

So, what brought Huston to the Knox County area in general, and Farragut in particular?

New to traveling along the East Coast in recent years, Huston said his travels along Interstate 95 took him from Portland into New York City and Washington, D.C. But soon he thought, "Is there any way to avoid all that traffic?"

He also said there were monstrous potholes near the big cities on 1-95.

"Then I saw I could come down from Maine to Boston, and then pick up (Interstate) 84, and come right down 84 to (Interstate) 81," Huston said. "And then I ended up in Knoxville. … On the way home," given that westward I-40 ends in Southern California.

"And then I discovered Farragut and thought, 'this place is really wonderful,'" he added. "And it feels safe."

This retired attorney said the Knoxville metro area is "low risk" along with Missoula, Portland and Boone — meaning low crime and low traffic.

Finding a quiet spot to play his six-string Indonesian guitar and sing his songs "is on my bucket list" of things to do on each stop, which in recent years has included Farragut and Knoxville.

Pointing to Ingles, Huston said "they've got good Southern cooking" in their deli.

However, his attention often turns to Parkside Drive in Turkey Creek when hungry. "My favorite place to eat is Panda Express," Huston said.

Not to be forgotten are his annual visits to Anytime Fitness in Farragut — he joined the AF location in San Diego.

Knowing to hit the road for San Diego before cold weather hits the Knoxville metro area in late fall, Huston — an ex-surfer who grew up in Corpus Christi, Texas — can be expected to return in October 2023.

"I love it here," he said.