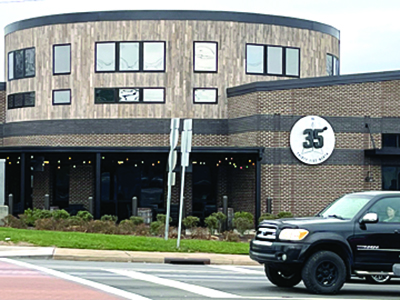 Just shy of being in business for two years, 35 North — originally a retail hub for food trucks — has closed.

Patron reports indicated the last day of operation for the restaurant and bar, a prominent part of Admiral's Corner at the intersection of Kingston Pike and North Campbell Station Road, was Sunday, Dec. 18 — almost two years to the day of its Dec. 29, 2020 opening.

A "closed" sign has been placed on its doors, the phone number no longer works — and while the company's website was still accessible as of late last week, its Facebook page had disappeared.

According to an online advertisement found on BizQuest.com, the business is for sale — but not the building — and was listed for $200,000.

Owners Carlos Cortez and Doug Justus first approached Farragut officials in July 2019 with a concept and plans for the Admiral's Landing development, which ultimately housed 35 North, with room for other potential businesses.

Despite the pandemic being in full swing during late 2020, 35 North opened under its original concept, offering 7,000 square feet of indoor space, a circular bar area and food truck bays, along with two outdoor patios.

However, the vision changed over time, as owners announced a partnership with Nama Hospitality Group earlier this year, with intentions to remodel and eventually offer a full-service kitchen.

Only Summer Moon coffee shop, which opened earlier this year as the second business to open in Admiral's Corner, remains in operation there.

Repeated attempts by farragutpress to contact Justus and/or Nama were unsuccessful as of press deadline.