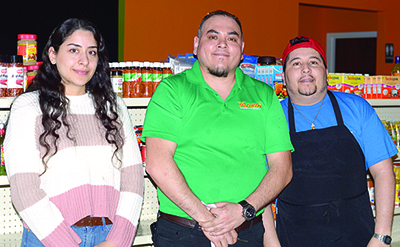 Anyone looking for that special ingredient to make their fiesta meal more authentic, or who simply wish for items from Mexico now has a place to go: Las Michoacanas Tienda, 11145 Kingston Pike, located adjacent to Potrillo's Taqueria & Neveria.

Las Michoacanas Tienda, having the same owners as Potrillo's — Arturo Leon, Gabino Rubio, Eugenio Gomez and Jorge Nucamendi — who all own El Mezcal, is a Mexican grocery store that opened Tuesday, Dec. 6, and is stocked with everything from Mexican medicine to food.

Customers will find such fresh meats as beef, carne asada, pork ribs, hot dogs and "we make pollo ranchero," said Carlos Bernal, manager for both the store and Potrillo's restaurant.

Alongside meat, the store also offers fish, Mexican salt, crackers, bread, masa, drinks, snacks, cheese and sour cream.

"We make tortillas and pork ribs," Bernal said. "We are cooking for to go."

The idea for the store came about "because we need to buy a lot of produce for the restaurant, and a lot of customers told us we need a Mexican store in Farragut," he said.

"I'm happy," Bernal added about the store opening. "We've been busy."

The store is open from 9 a.m. to 9 p.m., Monday through Sunday.

Potrillo's, which has been in operation for six years, is a Mexican restaurant that also sells homemade ice cream and popsicles made with fresh fruit.

Additionally, it offers burritos, gorditas, chile rellenos, hurachas, quesadillas, pina del mar, jalisco fajitas and carne asada.

Portrillo's is open from 11 a.m. to 10 p.m., Monday through Saturday, and from 11 a.m. to 9 p.m., Sunday.

For more information about LMT, call 865-288-3172. For more information about Potrillo's, call 865-671-4763.