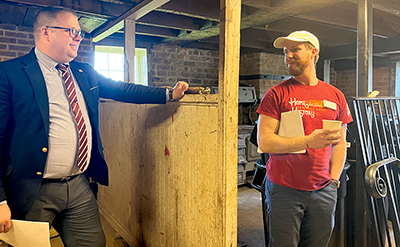 The Campbell Station Inn working group continues to evaluate potential uses for Farragut's historic structure.

The group met for the second time Thursday, Dec. 15, in Town Hall for a two-hour discussion, further considering not only how it might be repurposed, but also how other historic buildings/homes have been utilized in Knoxville and beyond.

"What should it be, and what is it costing you?" asked group member Stephen Krempasky, group member and executive director of Shop Farragut/Farragut Business Alliance.

Group members Patrick Hollis, executive director and public historian for the Mabry Hazen House, and Anne White, owner of the nearby Boyd-Harvey House, talked about their own sites while Hollis expanded on other historic homes/buildings, which have been put to use outside of Knoxville.

The Jones House in Boone, North Carolina, houses the Town's cultural and community center; Eastern State Penitentiary in Philadelphia, Pennsylvania, is now a museum; Revolutionary-era Drayton Hall in Charleston, South Carolina, offers plantation tours and examples of pre-Revolutionary War architecture; and the Hardesty-Higgins House in Harrisburg, Virginia, serves as a visitors center.

"Key is sustainability," said Hollis, who noted the main revenue sources for the Mabry Hazen House include tours and special programs, most of which go back into property and structure maintenance. "Could this be event space? A coffee shop?

"You want to give people access."

Group member Candace Viox, who owns Water into Wine bistro & lounge in Farragut, suggested the Inn could be the site for an outdoor arts and crafts expo.

"Perhaps monthly," she said.

"Maybe a cultural center would be the best use for it?" Hollis asked.

Whatever the choice, "I would encourage you to find ways to bring in revenue streams that would lead to long-term sustainability," he added.

Hollis also suggested Town officials or staff look into having the historic Inn and home placed on the National Register of Historic Places.

"It would give you access to funding and additional resources," he added. "It is about a year-long process."

White, who lives in the Boyd-Harvey house she operates as a bed and breakfast, agreed, noting having the property placed on the National Register of Historic Places did open up some grant funding.

The placing could be done retroactively to the structural changes Town officials had overseen since the building was purchased in 2012.

"It sounds like we had decent consensus that the overall recommendation is for broad uses of the Inn," said Trevor Hobbs, assistant to the Town Administrator who is leading the working group.

The group is tentatively set to meet next week at the Inn. A time and date had not been announced as of press deadline.