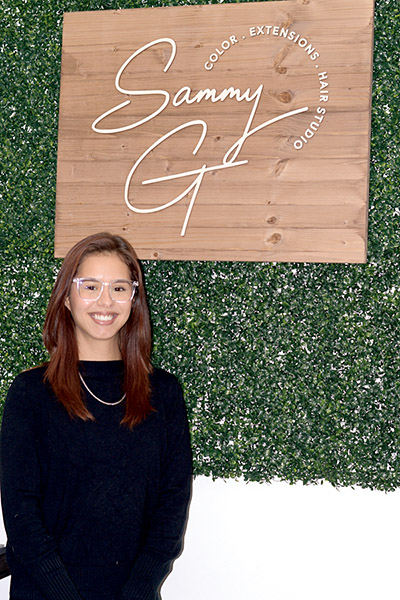 Samantha "Sammy G" Giraud recently started her own venture, Sammy G Hair Studio, in Sola Salon Studios at 11324 Parkside Drive.

The 2018 Bearden High School graduate provides color and hair extensions services — and she is planning to train to provide haircuts in the future.

"I'm certified with Hair Talk hair extensions," she added. "I can do three types of extensions."

While she opened her salon Thursday, Dec. 8, Giraud has been in the business for four years.

"After beauty school, I took a break and worked in a restaurant for a year," she said. "Then after COVID, I went to Salon Azure."

Giraud and her family then decided she was ready to strike out on her own.

"We started looking into studios, and we found Sola Salon Studios," she said. "I really like it here.

"My mom and my sister have been a great help," Giraud added. Now having her own painting company, her mother previously had a salon as well.

"She's really helpful with designing and putting everything together here," Giraud said.

"When (mom) moved to Knoxville, she had her salon in her house," the new business owner added. "She was very passionate and very good at what she did."

Giraud chose a salon studio because "I am really big on connecting with my clients.

"I want them to feel like they are more than a client. I want them to feel comfortable to release here," she added.

"Sometimes, when you are in a salon environment, it's very fast paced. It's very money oriented … but I also want to make people happy, feel good and leave here feeling like a new person."

Her new studio location "allows more space to have one-on-one conversations with people," Giraud said. "I also do a lot of detailed work, which could take up time, but that way I make sure the clients gets exactly what they want."

Sammy G is open from 10 a.m. to 6 p.m., Tuesday through Friday; from 9 a.m. to 5 p.m., Thursday; and from 10 a.m. to 4 p.m., Saturday. Appointments can be booked on her Instagram account, @sammygstyles, which has a website link to book online, or call 865-208-8547.