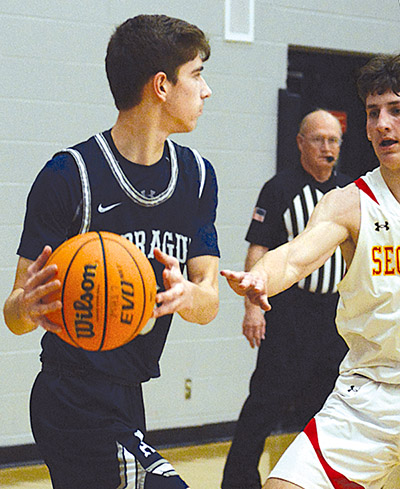 MARYVILLE — Missing "a couple of shots here and there" to begin the game left Aidan Vanacker, one of Farragut's best perimeter shooters, a bit shy to fire up the rock in what became a 53-48 loss to Sevier County during the Renasant Bank Christmas Tournament last week at Maryville High School.

J.P. Burris, Admirals skipper, had to remind the junior wing about something important: "'Aiden, you're a phenomenal shooter, catch-and-shoot with confidence and don't think about it,'" he recalled telling Vanacker, while also reflecting on his breakout performances as FHS ended the tournament with two wins.

Led by Vanacker's eight three-point jumpers — four in the first quarter — and career high/game-high 27 points, the Admirals won the fifth-place game versus "a really good Hampton team," Burris said, by a 75-55 count Thursday afternoon, Dec. 29.

"My teammates found me when I got open," said Vanacker, whose team also beat Sequoyah 67-42 Wednesday evening, Dec. 28, led by his game-high 14 points.

"We saw the difference," Burris added about Vanacker being assertive and confident with his shooting.

"And he's also getting a lot better at doing more than just shooting, (including) defense," the coach added.

About the three games at MHS, "Tuesday (Dec. 27 versus Sevier County) was rough, we didn't come out as I expected," Vanacker said. "Coach warned us about it, but we came out slow.

"Yesterday we played very well, and today we also played very well," he added. "We had defensive energy."

"I think the couple of days off, and then getting snowed out Monday night (Dec. 26) and not being able to come in and shoot around Tuesday morning really put us a little behind the 8-ball," Burris said. "Obviously credit to Sevier County, they played harder than us. They were ready to go.

"When teams play harder than us, and they win more of the 50-50 ball category — it doesn't show up on the stat sheet but it makes a huge difference — we're not that good when we're in that kind of lull," he added. "I think Tuesday grabbed a lot of our guys' attention."

But against Sequoyah and Hampton, "We got after it," Burris said. "… (Hampton), they like to press, they like to play in transition. I thought we did a good job of matching them in what they do well."

Admirals 75 Hampton 55

Other top scorers for Farragut were Dominic Vanacker, sophomore wing, with 17 points. Parker Lane, freshman point guard, scored eight.

The Admirals led just 45-41 late in the third quarter before a 23-6 run spanning about 4:30 — topped by Aidan's final pair of three-point jumpers — put the game on ice.

"I really like our depth; we had several guys come in and make a big difference," Burris said about the Hampton game. "We've gotten where we trust a lot of our guys in our rotation.

"… I think our depth, doing it with 11 guys versus their seven or eight, might have been the difference," he added. "And then we shot it well by sharing the ball."

FHS 67 Sequoyah 42

Tyson Jackson, Farragut senior post, scored 13. Berkley Naro scored eight.

Sevier Co. 53 Farragut 48

The Admirals lost a 13-11 lead after one quarter, trailing 28-20 at halftime and 42-32 after three frames. Dominic Vanacker led the Admirals with 15 points, followed by Lane with 11, Naro scoring eight and Preston Fuller seven.