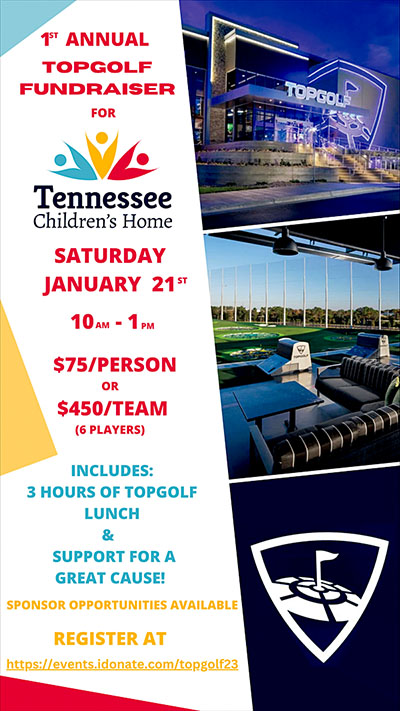 A first ever "fun" -raiser at Farragut's Topgolf hopes to raise money for Tennessee Children's Homes, a little-known organization that is making a huge impact in the lives of children it serves.

Martin Smith, TCH's development director, said the event will be 10 a.m. to 1 p.m. Saturday, Jan. 21, at Topgolf, 11400 Outlet Drive. Cost is $75 per person, or $450 for a six-person team.

The fees cover not only three hours of golf, but also lunch.

There are options for competitive play, along with just "play for fun" play, Smith said.

"I don't want people to get scared away about it being competitive," he said. "There will be a competition, but people don't have to sign up for that option."

Smith said the event dovetails nicely with the organization's long-standing annual John Chavis Golf Classic fundraiser, held each May at Avalon Golf Course. "Topgolf is quite a bit different, but we were looking at doing something different and something everybody could do," Smith said.

"I went to the grand opening )of Topgolf) and found out about their program for 501(c)(3) nonprofits, which offers playing time for 50 percent off, and I was just very impressed with how community minded they are," he added.

"Topgolf is just very generous."

However, "We are still looking for players for this event," Smith said.

To register or to make a donation, visit events.idonate.com/topgolf23.

TCH is a residential care facility for children 13 to 18 years of age who have been neglected, abused and/or are at risk. They have an accredited school on campus, provide drug and alcohol programs as well as individual and family counseling.

TCH has four group-home campuses statewide, including one in Karns, one in Spring Hill, one in Clarksville and one in West Tennessee near Jackson.

even collegiate girls and boys.

For more information, visit tennesseechildrenshome.org or e-mail Smith at msmith@tenneseechildrenshome.org.