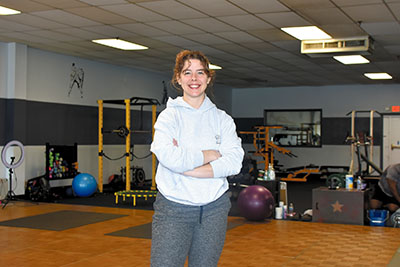 Shamir Peshewa wants her clients to be their own heroes — and gives them the tools to do just that.

Owner of Hero Athletics, the personal trainer and professional Mixed Martial Artist fighter has worked for a number of years honing her own fitness goals, and is sharing her knowledge with her clientele in a business she says "is set up differently than any gym in Knoxville."

Peshewa said she has worked the last 20 years with a number of health and fitness strategies "that are based in science.

"We have one set fee, $150 per month, which covers membership, access to our gym and personal training," Peshewa said of the unique business, located at 11214 Outlet Drive. "Everyone needs personal training, but normally you would have to pay extra for that service.

"It is set up at the client's comfort level," she added "It could just be me and that person, or it could be more. It's all about coming together, no matter who you are or where you are starting from, and going on a shared journey.

"Everyone's journey is different. You might have a different goal than mine. That is why typical gyms that have a 'one size fits all approach' don't usually work."

"My goal is to meet you where you are."

Peshewa means that literally.

"One lady could not get up and get out, so I am going to her," she said, noting she did that in many cases during the COVID pandemic. "I am here to help people live a healthier life, for themselves — whatever that means and whatever it takes.

"We aren't really a weight-loss gym, but if your goal is to lose weight, I will help you," Peshewa added. "Our concern is that you be healthier."

Starting with attitudes toward fat.

"It's not healthy to have zero fat on your body," she said. "If you don't have any fat on you, you are dead."

"We try to teach balance, and take the toxic attitudes out of the gym," Peshewa added. "The gym is the most honest thing I know. If you put work in, you will get something out."

With a background that, beyond MMA, includes roller derby, kickboxing, jujitsu and wrestling, Peshewa nevertheless said she knows she can't be all things to all her clients, and has others on staff to fully offer a variety of fitness options, including fitness boot camps, yoga and flexibility, strength, body building and flexibility, kickboxing, Brazilian Jujitsu (Gi and No-Gi); dance fitness, cabaret and jazz and adults mixed martial arts and kids martial arts.

Additional services offered include nutrition and meal consulting, in affiliation with Eddie's Health Shoppe, located at 455 Union Ave. in downtown Knoxville.

Peshewa, who now lives in West Knoxville, is originally from Strawberry Plains; and, as a Native American Shawnee, also grew up in Catawba, North Carolina.

In addition to Hero Athletics, she also operates a marketing firm, Next Level Creative, with her fiancé, Caleb Miller, his mother, Denise Miller and Ken Wilson.

For more information, visit https://marvel-my-fitness-llc.triiib.com/free-trial// or call 865-640-6611.