Smoky Mountain Service Dogs allowed to train at Anytime Fitness Farragut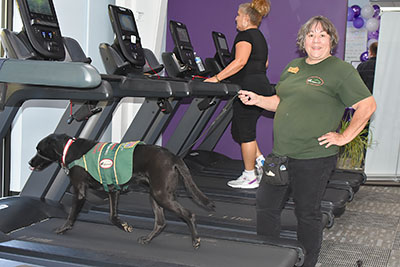 You won't see many gyms welcoming four-legged workout partners, but Farragut's Anytime Fitness isn't just any gym.

The Farragut franchise formed a unique relationship with Smoky Mountain Service Dogs about two years ago. The SMSD mission statement is "to enhance the physical and psychological quality of life for wounded Veterans by providing custom-trained mobility assistance service dogs (at no cost to the Veteran)."

Anytime Fitness Farragut wanted to support them any way possible — even by allowing the animals to train onsite.

"We have opened our doors to them completely," said Estella Nelson, who co-owns Anytime Fitness with Jay and Louise Povlin. "When they are training the dogs or just need to keep them active, they bring them in.

"We are happy to work with the trainers and the veterans," she added. "If they have a need, we do what we can to figure out how to meet it. We really appreciate and love what they do."

"The ability to take our service dogs in training to Anytime Fitness is a wonderful resource for us," said Laurie Birt, long-time SMSD volunteer. "The dogs we supply to veterans are custom-trained mobility assistance service dogs, and most of them will have to visit physical therapy centers, orthopedic clinics and gyms as part of their life with a wounded veteran, so the ability to get them familiar with all the equipment is very helpful in their training program.

"I am not aware of any other gyms in the area that extend that courtesy to us, and we are very grateful to Estella and her team at Anytime Fitness," she added.

Nelson said the partnership with SMSD began with an internal "'MyZone Challenge,' with four tiers and four coaches," she recalled. "Each coach chose a local charity, and we all learned more about these local charities, while also raising money for them."

In addition to SMSD, the other charities were The Love Kitchen, which serves meals to homeless, elderly and homebound; Keep Knoxville Beautiful, which works to keep Knox County "green, clean and more beautiful" according to its website; and the Alzheimer's Association of Tennessee, which helps those with Alzheimer's and their families.

"SMSD raised the most money, and since then we have maintained a partnership with them," Nelson said. "We are all animal lovers here and are also very supportive of our military and our veterans."

She said they share information about SMSD not only internally with its members, but also through social media posts, and regularly raise funds for the organizations' efforts.

Most recently, as part of its 10th anniversary celebration, Anytime Fitness made a monetary donation to SMSD.

For more information about SMSD, to learn about becoming a volunteer or to check qualification requirements, visit www.smokymountainservicedogs.org.

For more information about Anytime Fitness Farragut, visit https://www.anytimefitness.com/gyms/3136/Knoxville-Farragut-TN-37934.