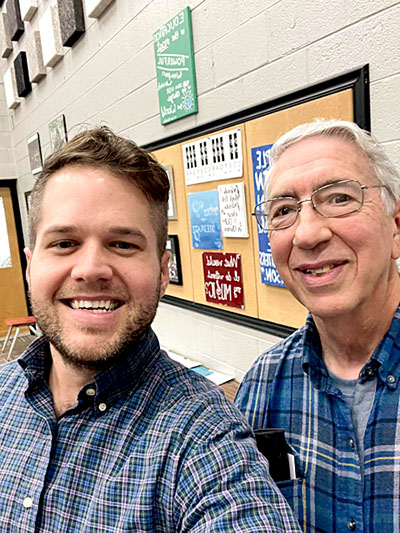 Farragut High School has a rich musical history stretching back decades, thanks to the efforts of a number of choir directors and the passion they inspired in their students.

Four of those directors: Carey Crowe, Ginny Carroll Herrick, Kenton Deitch and current director Mitchell Moore will be leading the first Alumni Reunion Concert beginning at 4:30 p.m., Saturday, Feb. 18, in FHS's Vickie B. Wells Auditorium.

Registration currently is open for former choir members who wish to join what is planned as a day-long slate of activities, including a catered lunch, a scavenger hunt school tour and rehearsals prior to the concert itself, which will be followed by a reception.

Farragut resident Elizabeth Plewniak, who was a member of the FHS ensemble and sang under Crowe's direction in the late 1990s, is helping Moore with the event.

"We met today to do some choir reunion planning and the mission was, 'Make this a really special day for everyone involved,' Plewniak shared Saturday, Jan. 14, on the event's Facebook page. "We are so excited that so many people from different decades are coming.

"I'm really excited for Mr. Crowe to be with us," she added. "He made such an impact on our class, and me personally. As an adult, I look back on his investment of time and energy and personality, and it was a formative time in my life. I have taught students (for years), and many of his teaching techniques actually shaped the way I teach and coach.

"I'm really grateful we will get to be directed by Mr. Crowe one last time. I'm also excited to see old friends — I have some very good friends flying in from California."

Actually putting on an Alumni Concert was Moore's idea, she said, adding, "It's actually something I had a wish to do for many years."

Plewniak said former FHS student Mark Gagliardi, now an actor and comedian living in Los Angeles, will serve as emcee for the event.

Organizers are hoping registrants will sign up by Saturday, Feb. 4, "but the sooner the better, so we can get a feel for numbers and catering and such," Plewniak said.

While cost is $50 per person, "we don't want the cost to be an obstacle, so if anyone wants to contact me, I will make it happen for them," she added.

As of Jan. 14, about 30 alumni in addition to current students are planning to participate, Plewniak said.

"There are a bunch of people who have said they are planning to come who have not signed up, however, and if they do I believe we will be at around 50," she added. "I'd love for each of them to bring a friend as well.

"One hundred would be lovely. We don't have a cap."

Those interested may register through Alumni Concert Facebook page, or by visiting https://knoxschools.schoolcashonline.com/Fee/Details/31702/231/False/True.

For more information, contact Plewniak at eplewniak@gmail.com.