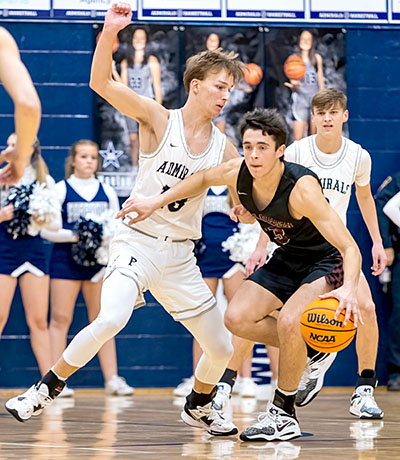 Farragut High School's boys' basketball team went 2-1 last week with a win at Maryville — thanks to a huge second-half rally — Tuesday, Jan. 10, and a convincing triumph at Greeneville Saturday, Jan. 14, sandwiched between an overtime loss at Sevier County Thursday, Jan. 12.

Farragut 61 Maryville 49

In a game that appeared headed for an Admirals' loss — down 48-34 late in the third — Farragut suddenly went on a 20-0 run to lead 54-48 with 4:30 left in the game. A 7-1 close-out from there gave FHS 27 of the final 28 points scored.

Junior wing Dominic Vanacker was high for Farragut in points with 18. Senior post Dallas Carbaugh, making his first start since a knee sprain Dec. 2, scored 17. Freshman point guard Lane Parker got 10 while junior forward Berkley Naro added 10.

"We played defense really well," first-year head coach J.P. Burris said. "I'm proud of my guys for understanding that you can get back in the game by just getting stops. They did a great job of that when we went on that run."

Sevier Co. 56, FHS 53 (OT)

Despite cold shooting — one of 20 from three-point range — the Admirals had a chance to win the game in regulation, but Aiden Vanacker's shot from the corner was off the mark.

Burris blamed himself for the loss, saying his boys were overworked heading into the game.

"That one's on me," he said. "Our guys chose to come in and shoot Sunday. I chose to have them lift on Wednesday morning. After the Maryville game, I think our legs were dead."

FHS trailed 26-22 at half. It was 50-all at the end of regulation.

"We played well; you hold them to 50 points in regulation, I can't complain about that," Burris said. "I think tired legs cost us at the free-throw line and we didn't shoot well from three.

Sevier County is a really difficult place to shoot and they played their zone really well."

Dominic Vanacker was high for Farragut with 14 points. Carbaugh added 12.

FHS 70, Greeneville 55

The Admirals bounced back nicely two nights later, building a 20-point halftime lead, then never leading by fewer than 14.

"This is a testament to how resilient they are," Burris said. "My guys went through one of the toughest weeks you could have, with three games on the road, all against quality opponents."

FHS's balanced offense had four double-digit scores: Dominic Vanacker led with 16, Carbaugh added 14, as did Lane, while senior post Tyson Jackson scored 11.

"We shared the ball, we played together," Burris said. "This is a really good Greeneville team that's gonna go on a run. They went on a run but we stayed together."

The week left the Admirals at 12-9 overall, 2-1 in District 4-4A.

"I think we're one of the best 12-9 teams in the state," Burris said.