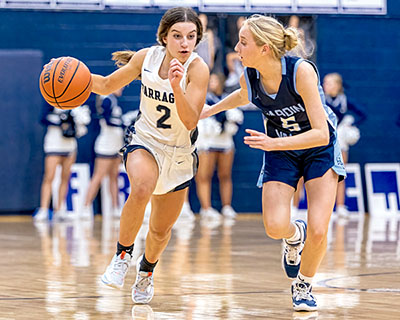 MARYVILLE — Trailing by as many as eight points in the first quarter, Hardin Valley Academy's girls took a while to get on track at William Blount High School Friday night, Jan. 13.

Down 14-11 after eight minutes and behind 25-24 at halftime, the visitors in Navy and powder blue made a second-half statement — particularly in the fourth quarter — to win going away 52-36. The Lady Govs fell to 9-10 overall while still winless in District 4-4A at 0-4.

Seven three-point baskets from Hardin Valley after halftime perhaps was the biggest reason for the decisive win, as head coach Jennifer Galloway's Lady Hawks improved to 14-6 overall while grabbing its first district victory (1-2).

Lexi Hall, HVA sharpshooting senior wing, scored a game-high 19 points — 15 of that on five three-pointers — as Hardin Valley pulled away after taking a 37-32 lead entering the fourth frame.

A huge factor in that fourth-quarter surge was wing Lily Adkisson, who connected on a trey of three-point jumpers in the final eight minutes. Kyndra West, HVA sophomore point guard, scored 11 and had one three-pointer in the fourth quarter.

Kamiyah Love, Lady Hawks sophomore post, scored six points while Gracie Waite, junior wing, added five and Rather three points.

West and Adkisson combined for four three-pointers in the final quarter, the last making it 49-32 with three minutes left.