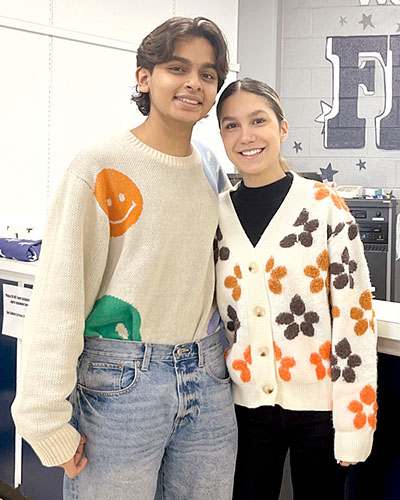 Two Farragut High School juniors and a Bearden High School junior were among 11 chosen for the inaugural Knox County Junior Commission program.

From FHS, Anand Patel was chosen for District 5, represented by John Schoonmaker, and Maya Farrar was selected for At-Large Seat 11, represented by Kim Frazier of Hardin Valley. From BHS, Ella Parker was chosen for At-Large Seat 10, represented by Larsen Jay.

A Knox County press release described the program as a "civics education and youth leadership program where Knox County high school students (seniors or juniors) can become a more engaged and informed citizen by participating in this unique program.

"Junior Commission participants will learn the functions of their local government and further develop healthy citizenry habits, all while promoting the importance of community engagement and public service," the release further stated.

The program actually was Jay's idea and had the full support of the Commission. The application process was announced late last year, and Jay said interest was strong.

"After seeing a diminishing number of people voting, running for office and participating in their local government overall, I have been thinking about ways to engage the next generation in civic leadership," Jay stated via e-mail.

"I'm thrilled with the interest and participation so far. We had nearly 70 applications to be a Junior Commissioner this first year and have selected 11 tremendous young leaders to build what I hope will be a robust annual program."

Patel, the son of Ashish and Arshita Patel, and Farrar, the daughter of David and Mina Farrar, have similar interests in politics and government, as both are in Junior State of America.

Both also indicated a possible future in the legal profession.

"At Farragut I have had a lot of opportunities to get involved," Patel said, noting he also attended a Knoxville City Council meeting, which also piqued his interest.

"I would like to have more experience with the law and politics," he added.

"I see a future in the law, and I want to go to law school, then possibly get into politics," said Farrar, who also is involved in the DECA Club. "I get the feeling that that type of job will always be a passion of mine."

Patel said he had not yet met Schoonmaker, but Farrar said she had met Frazier in the past.

"I adore her," she added.

For her part, Parker said she, too, "has always been interested in politics and government," but it was just around her sophomore year she started thinking about the topics locally.

"I thought if I learned more about local government, I might know more about what it means to be a good citizen," she added.

Parker said she had not yet met Jay but is "excited" about working with the county commissioner.

"I looked a little bit at what he has done," she said. "I am also excited to meet with other students who are also interested in government.

"I think it will be a good experience."

She is the daughter of Joey and Elizabeth Parker and said she is considering medicine or journalism among her future career pursuits.

Junior Commissioners met with their counterparts Monday, Jan. 23, for orientation, then attended the regular County Commission meeting.

Additional events include Knox County Commission work sessions; regular meetings in February and March; a zoning hearing; then a mock Junior Commission meeting March 29.

The program will conclude with a dinner (also attended by their family members) March 27, followed by graduation and recognition during the regular County Commission meeting.

Each Junior Commissioner also is required to attend one community event activity with his or her commissioner sometime during the program.

Additional Knox County students selected were: (District 1) Caroline Scoonover of Knoxville West; (District 2)– Gabriela Sánchez Benítez of Fulton High; (District 3)– Dain Shelton of Hardin Valley Academy; (District 4) Ethan Coffey of Christian Academy of Knoxville; (District 6) McKayla Muse of HomeLife Academy; (District 7) Lily Hutchison of Halls High; (District 8) Madelyn Dyer of Berean Christian School; and (District 9) Emily Child of South-Doyle High.