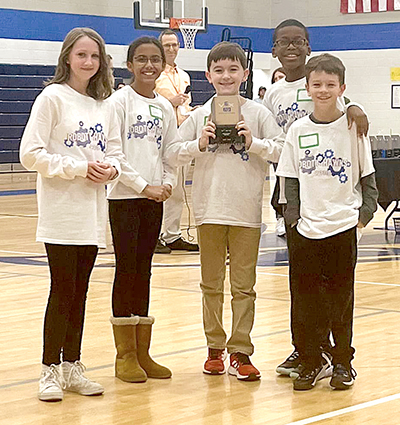 Hardin Valley Elementary School's STEM program recently paid off for some fourth- and fifth-graders who were part of a countywide elementary and middle schools robotics competition, hosted for the first time by HVES, Saturday, Jan. 21.

They plan on capitalizing on that win with an upcoming STEM Night from 5 to 7 p.m., Friday, Feb. 17, in HVES gym.

"We have one team going state that won the Excellence Award, and we have another team that won the Design Award, and they beat out even middle school teams," said Jessica Everitt, HVES STEM teacher.

Members of the Excellence Award-winning team included Ellie McNeeley, Reya Lamichhane, Harrison Everitt, Chase Bonds and Silas Moyer.

The Design Award winning team included Ashton levy, Mack Cherry, Anneka Gomatom, Mason Killingsworth and Cynthia Li.

"I was surprised that our teams beat some middle (school)-level schools, but then, I'm not surprised because everyday, I see that level of thinking in our STEM classes," said Lynn Jacomen, HVES principal. "That's very encouraging because we don't know what we're preparing our kids for. We don't know what the future will look like, but we do know there will be some high level of thinking involved."

Building from the bottom up, the teams designed a robot to meet VEX's challenge.

"Every year, VEX comes out with a challenge (task)," Everitt said. "This year, they had to release pucks (discs) out of three different types of dispensers.

"The challenges get harder every year," she added. "They always rise to the occasion."

She said the students started in August, meeting at least two times a week, but "most of the students come to our other optional practices, so they're meeting three to four times a week.

"And they're doing work outside," Everitt added. "They will come in with ideas, ready to go with it and talk to their team. That's another great skill that comes out, the collaboration piece."

"(The win) doesn't really just speak about the school. I think it's a compliment to the community because the robotics team is an alliance with our school, the county and with our families.

"They chipped in on that competition. We had volunteers, lots of support from the school — lots of teachers came in and gave time for that."

In general, "If our teams are doing well, it's because they have support here at the school level, but they also have parents who want to see them successful, along with community members," Everitt said.

The tournament included 25 schools from around Knox County that competed in VEX IQ Robotics, she said. There are five students on each team.

Watching the action were, TVA reps and officials from Tennessee Robotics Association.

"We also have a junior robotics team (second- and third- graders) that is not competitive yet," Everitt said.

"Knox County came out with grants about four years ago, and we had just started our STEM program and were looking for opportunities for students and getting into career fields, and robotics was one of those growing fields we really want our students to have a hands-on experience with," she added. "When those grants became available, we took them up on the opportunity.

"We started a team that year, and we had a team that went to state, and we've had at least one team go to state every year since then."

"In Knox County, there are only three or four elementary schools that have robotics teams that can compete," Everitt said.

After the competition, HVES will host its annual STEM Night Friday, Feb. 17. Event is free and open to the public.

"We have over 20 presenters coming to share about their careers and what they did to get there," Everitt said. "This year, we're adding a big truck area, so we'll have (Tennessee Department of Transportation) with a snow plow and a hazard truck. (Knoxville Utilities Board) is sending out a bucket truck to show off."

"A construction company is sending an excavator," she said. "We'll have a drone team showing off their drones. We have Arial Imagery coming out.

"We are fortunate enough to have amazing community relationships that allow us to share with our students and families about careers that they can attain in their future," Everitt said. "We want our students to dream big early so they have time to make those dreams come true.

"We expect to have around 1,000 participants at our event and over 25 different community partners ranging from the US Space Force to veterinarians," she said.

"I have been a head principal of three schools, two of those I implemented a STEM program because they didn't have one," HVES principal Lynn Jacomen said. "So, coming to Hardin Valley that already had a STEM program was exciting for me because it was already established, and Jessica is well-known all over the county for her expertise in STEM and the high level of quality of a STEM program.

"It was exciting for me to be a cheerleader of STEM," she added. "I know that a STEM program really pushes children to think at the highest level possible.

"It encourages creativity, problem-solving, lots of critical-thinking skills that are needed in everyday, standardized ways," the principal said. "So, having a program that's such a high level — even though there are only so many children involved in robotics — the STEM program, as a whole in the school, everybody gets to take part in it.

"We're introducing all of our students in the building to this high level of education," she said.