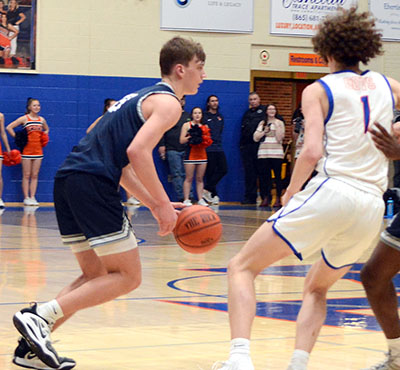 MARYVILLE — Though saying he's not "big into moral victories," J.P. Burris was nonetheless pleased with his Farragut Admirals rallying from an 18-point deficit midway into the third quarter — and down seven with just 1:20 left in regulation — to tie the state's No. 3-ranked William Blount Governors and force overtime in an emotionally charged road environment.

With the District 4-4A regular season title on the line at WBHS Tuesday night, Feb. 7, the Ads got a Parker Lane three-point basket just before the fourth-quarter buzzer to catch the Govs (25-4, 8-2), tying the game 54-54 and requiring four minutes of extra time.

In the end, however, a couple of OT turnovers plus the cream rising to the top — superstar Govs junior forward Caden Windle scoring seven points in the final 1:19 of OT, 11 total in the extra frame and 34 overall — resulted in a 67-59 William Blount victory.

"Our guys don't ever quit — they've done this multiple times this year," said Burris, first-year Admirals skipper whose team will be the No. 2 seed (7-3 in district, 17-11 overall) in the upcoming 4-4A tourney hosted by FHS starting next week. "They always battle back no matter what the situation is."

"We just didn't give up; I was super-proud of my team," said Dallas Carbaugh, Ads senior standout post who scored five points before fouling out in the final seconds of regulation time. "I wasn't having the best game, but my team really picked it up."

Despite the Ads comeback, "We showed some resilience and we were able to bounce back; we focused in," Govs head coach Kevin Windle said. "Right before the overtime, I saw 'no doubt' in my guys' eyes. You would have thought they'd be down, they'd be upset. … It was a determined look."

Individually, "Caden Windle played outstanding. … I'm very proud of him (coach's son)," the senior Windle said.

Overtime

Claudio Song's steal and fast-break lay-up with 2:48 left in OT gave the Admirals a 58-56 lead, coming about 15 seconds after the back-up post's rebound basket tied the game 56-56.

A Dominic Vanacker defensive rebound found Farragut in control, up two with the ball and under two minutes remaining in extra time.

But a missed shot in the paint allowed Windle, who Burris labeled a "Mr. Basketball Finalist player," an opening to get hot and lead his team to a huge win.

The junior star's three-point jumper with 1:19 left gave the Govs a 59-58 lead.

After Berkley Naro made one-of-two free throws to tie the game with 56.6 seconds showing, Windle nailed the dagger — a three from the corner with 38.8 seconds remaining.

The Admirals turned it over at the 19-second mark, and Windle's one free throw upped the lead to 63-59 with just 14.9 seconds left in extra time.

With Farragut rushing shots to climb back quickly, the Govs managed four more free throws in the final seven seconds to seal the 4-4A regular season title.

Burris said he was "proud of everything they've done this year, everything they've accomplished," especially considering "the fact that we're even in this position in the first place — when not a lot of people expected us to be here."

The comeback

The Admirals faced a 39-21 deficit midway in to the third quarter, but promptly went on a 15-2 run — begun with a three-point jumper by Lane, freshman point guard, and greatly fueled by a pair of Aidan Vanacker three-point baskets and his fastbreak lay-up, assisted by Lane, to cut the deficit to 41-36 with just 13 seconds left in the third.

The elder Vanacker, a junior wing, ended up leading FHS in scoring with 14 points. Lane finished with 13.

An old-fashioned three-point play in the paint by sophomore wing Dominic Vanacker, and two Lane baskets — a three-point jumper and a 15-footer — cut the Govs lead to 45-44 with 4:51 showing.

William Blount used a pair of turnovers to build back a 51-44 lead with just 1:20 remaining in regulation time. But a Dominic Vanacker driving basket and, after the Govs missed a 1-and-1 free throw, Naro's three-point-play basket in the paint (converting the free throw) cut the WBHS lead to 51-49 with just 41 seconds showing.

After one Govs free throw, Lane earned three free throws on a long-range shot attempt with only 12.1 seconds to go. He hit two, cutting the William Blount lead to 52-51.

After two Windle free throws at the 10.8-second mark, Lane fired up a long three-pointer from the deep right wing that went through, forcing overtime.

"We started getting downhill a little bit more, which is what opened it up for shooters," Burris said about his team being more effective taking the ball to the basket offensively.

"And we also started taking advantage of when they were switching, throwing it into the post … when we had the mismatches inside that we wanted," he added.

First half

William Blount held a 13-10 lead after one quarter, then built a 13-point advantage, 27-14, before Aidan Vanacker's three-pointer keyed a 5-1 Admirals late run, cutting the halftime deficit to 28-19.

Other scorers

Governor guard Bryson Stewart scored 14 points, while teammate Grady Robinson added 12 before fouling out with 1:31 left in the fourth quarter.

Dominic Vanacker finished with nine points. Naro and Song each scored six, while Tyson Jackson had four and Luke Johnson added two points.