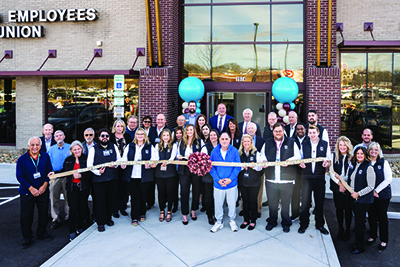 Northshore Knoxville TVA Employees Credit Union hosted a grand opening celebration for its new Northshore Branch, 1974 Town Center Blvd. off of Northshore Drive, Friday, Feb. 10.

"In the Credit Union's 89 years of serving East Tennessee communities, this milestone marks the opening of the 25th location to serve credit union members," a press release stated.

"I'm so excited," said KTVAECU branch manager Ashley Swaggerty, who has been with the credit union for almost 13 years. "This is close to home — I live 4 miles from here — so this is my community, my area. I'm very fond of it."

She was a branch manager in a Roane County branch before coming to the Northshore area branch.

"We're excited to be part of this area," she said. "It's a growing area, and hopefully we can add to that growth.

"We've already heard from the members who have come by that they are so glad we're open," Swaggerty added. "We want to contribute to the shopping centers, so we reached out to them to let them know we are here."

"We are grateful for the support of our members in reaching this historic milestone," president/CEO Glenn Siler said. "At Knoxville TVA Employees Credit Union, our philosophy is people helping people.

"Opening the Northshore branch will allow us to become part of this neighborhood and give back to the local schools, events and organizations," he added.

Siler said the company started in 1934 during the aftermath of the Great Depression.

"Times were tough back then, and (its founders) wanted to give the people of this area a good place to save and borrow at a place they could trust, so they formed the credit union," he said.

Swaggerty, Siler, chairman of the board Cleston Jones and chief support officer Becky Lawson joined Knox County Mayor Glenn Jacobs, 5th District Knox County Commissioner John Schoonmaker, other city and county officials, and Knoxville Chamber of Commerce, Farragut West Knox Chamber of Commerce and local business reps in cutting the ribbon.

"It takes a village," Lawson said about the people involved in making the branch a reality — from the realtor to the designers to the construction company, she thanked everyone involved for their participation.

The event featured refreshments and a drawing for prizes throughout the day.

"Knoxville TVA Employees Credit Union has a long history of helping members live better lives and grow financially," the press release stated. "Today, more than 260,000 members entrust the Credit Union with their finances.

"The credit union recently achieved the Callahan & Associates ranking as one of the Top 15 Credit Unions for Member Service Nationwide for providing outstanding value to its members," the release added.

"We serve communities in eight East Tennessee counties and Johnson City," executive vice president Lynn Summers stated in the release. "When members turn to us for their finances, the money they deposit stays here in East Tennessee and helps other people. We are proud to not only support our members, but also the thriving communities where they live and work."

Branch hours are from 10 a.m. to 8 p.m., Monday through Friday. For more information on membership benefits, visit tvacreditunion.com.