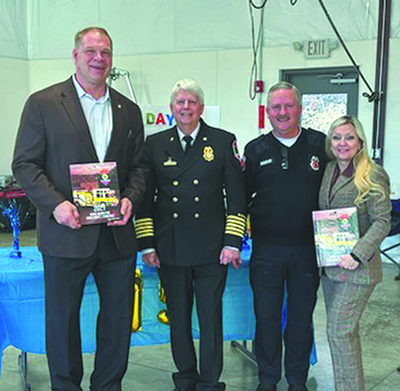 Knox County's Rural Metro Fire, of which the Farragut Station 41 is a part, celebrated a milestone with other Rural Metro agencies with an event at the Emory Road fire station Thursday, Feb. 2, to commemorate 75 years of Rural Metro's existence.

"It's a great opportunity for us to highlight 'A,' how the company was founded, and 'B" how we came to Knox County," said Jeff Bagwell, RMF public information officer.

While the Rural Metro corporate was started in 1948 in Arizona, the company arrived in Knox County in 1977, Bagwell said.

"We had a station on Kingston Pike at Lovell Heights, near Lovell Road, and then we had a station at the old Stuckey's near West Farragut, almost at Dixie Lee Junction.

"We moved from Lovell Heights — the old Knox West Fire Department, we merged with them in 1977 — to Hayfield Drive and now to Parkside Drive," Bagwell related. "We added this (North Campbell Road) station in 1988.

"The one at Stuckey's was still at Stuckey's, and the one at Hayfield Drive, but the growth required that we build a new station between the two," he said. "We had to have (the North Campbell Station facility) because there were so many people moving into this area. You had to have more resources; you had to have them closer to where people live.

"The station couldn't be that far away," Bagwell added.

"When we came here, we had about seven stations in 1977. Now we have 18, so (it's grown) almost three times what it was when we started."

"The proximity we are to our customers makes us more of a benefit and provides a greater service to our customers," Bagwell said.

Although he does anticipate more growth, Bagwell does not see more stations in Farragut.

"There are more pressing needs for stations in East Knox County because the shift of growth in Knox County is now north and east," he said. "We're still growing in Farragut, but not to the point it was in the '90s and early 2000s, at least as far as we can see."

According to Jeff Devlin, RM assistant chief of operations, in an earlier presentation, those 18 stations have about 200 employees in Knox County, serving about 264,000 county residents.

The North Campbell Station Road station has nine employees between three shifts, "so there are three on each shift," Bagwell said. "There are six at the station at Watt Road, and six at the station in Choto."

An industry-leader in fire protection services, including specialized fire protection for airports and refineries, Rural Metro started in Scottsdale, Arizona in 1948.

"Rural Metro Fire is honored to celebrate this milestone alongside its dedicated teams of first responders and the communities it serves," RM spokesperson Nicole Michel stated in a press release.

"The spirit of service and protection that fueled Rural Metro's founding remains an integral part of our organization today," said Mike Ragone, chief of fire and federal services for Rural Metro Fire parent company Global Medical Response. "We are proud of the impact Rural Metro Fire has had on communities around the nation in the past 75 years, and we look forward to continuing that legacy of service."

Beginnings in Arizona

The press release stated Lou Witzeman founded Rural Metro Fire in Scottsdale when he saw a need. Working as a journalist for the Arizona Times, Witzeman created the privatized fire service after watching a neighbor's home burn down with no response from the local fire department due to jurisdiction and insurance coverage,

"Rural Metro Fire later revolutionized the fire service industry by being the first service to operate in multiple communities and pioneering contracted work with municipalities," the release stated.

Rural Metro Fire community division currently provides services throughout communities in Arizona, Oregon and Tennessee.

"Our industrial fire division provides service in nine states, and our aircraft rescue division operates in six states," Michel stated. "Our wildland fire protection division operates in seven western states.

"Rural Metro Fire employs more than 1,400 people and answers 80,000 calls for fire prevention and suppression, medical emergencies, rescue and medical aid and home safety checks each year," she added.

In addition to hosting local anniversary celebrations throughout the year in each community it serves, Rural Metro Fire recently unveiled its commemorative 75th anniversary logo.