Black History, washing feet brought together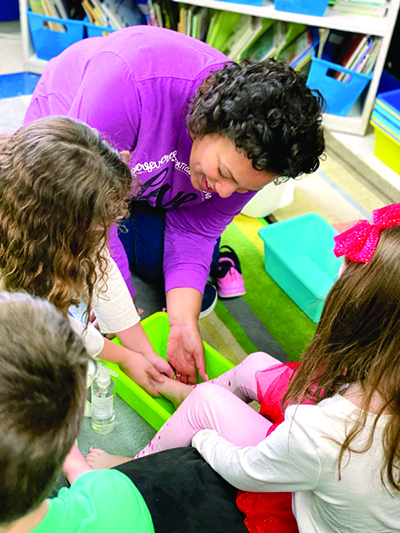 By having her 22 first-grade students wash each other's feet as a unique way to combine Jesus Christ setting an example of service with a celebration of Black History Month, Aja Grimes seeks to broaden the BHM perspective at Knoxville Christian School.

While she's not alone in that regard at KCS, Grimes "devastated" her young students by telling them the realities of a segregated Knox County in the 1940s, 1950s and 1960s.

"I read them a book about Dr. Martin Luther King Jr., and many of my first-graders heard, for the very first time, that I'm actually a Black woman," Grimes said about teaching her mostly white students (19 of 22). "We talked, for the very first time, about skin color," adding that "for many of them" it's the first time they've ever heard the subject.

"Helping them understand that, 'hey guys, 70 or 80 years ago I wouldn't have been allowed to be your teacher, and certain students here would have had to go to a different school' being of color," she added. "'I couldn't drink from the same water fountain as you. I wouldn't be able to be your friend.

"'If we got caught hanging out together in public, we could get in trouble for that.'"

As a result, "They're just devastated," Grimes said about her class reaction. "This is my 17th year in Christian education, and almost every year it surprises" her class. "Every time I have this talk, it shocks them — they get almost angry, like (saying) 'this is the dumbest thing; like that is awful. How in the world was that even allowed? That doesn't make sense Mrs. Grimes, just because of your skin color?'"

Washing feet like Jesus

Friday, Feb. 10, was a day to combine the virtues of Black History Month with the Christian principles taught at KCS.

"It's about how Jesus led by example," Grimes said. "Our motto here is 'Jesus Christ is our standard;' you can see it right when you walk into the (main) doors.

"Martin Luther King did the way he did because he loved so well, and Jesus Christ was his standard," she added.

Grimes read her class the Biblical story of how Jesus, setting the Godly example, washed his Disciples' feet.

"And he washed even Judas' feet," she added about the disciple who would betray Jesus.

"And then give them the chance to try it," she added. "I'll actually wash a few students' feet, and then have them turn and choose a friend to wash that friend's feet."

Cultural History Month

While incorporating lessons about Black History Month "at least two or three times a week, for about 30 minutes" — highlighting on the lives of several other historic African-Americans including George Washington Carver, Jackie Robinson and Madam C.J. Walker — in February, Grimes prefers the label of "Cultural History Month."

"There is a perspective we have here at Knoxville Christian: we actually kind of call this 'Cultural History Month.'

"Even for those who call themselves Black Americans or African-Americans, like myself, that's not our only culture," she added. "We want to recognize all of our cultures."

Grimes grew up in the inner city of Birmingham, Alabama.

"As Americans, we have a rich cultural history of brown people in general. ... we're just different shades of it," she said.