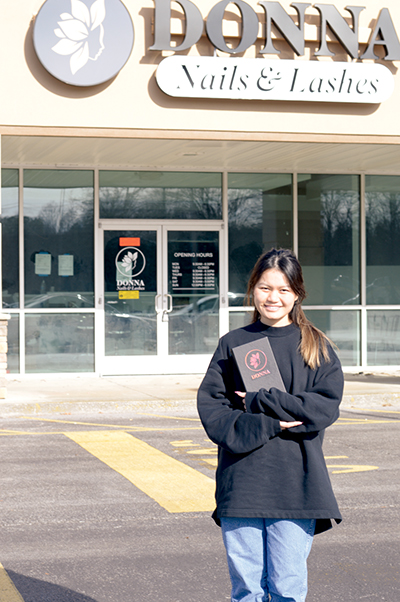 A second business, Donna Nails & Lash, moving into the old Ingles center is expected to open soon, pending the Town's inspection.

"I'm kind of excited," said co-owner Kayla "Irene" Hoang of Farragut, who is partnering with her sister, Chloe Hoang. "I just hope that everybody in the area will be coming in to visit us and try our service."

Donna Nails & Lash, 11801 Kingston Pike, will provide such nail services as gel manicures, dipping powders, acrylics and gel extensions, which is using a clear fake tips on the nails covered with gel liquid and then gel polish. "The gels, the acrylics, the gel extensions are going to last you a lot longer — at least two weeks," she said. "And, if you can take care of your nails really well, it can go up to a month.

"We also do pedicures, lash extensions, facial waxing, brow lamination and tinting," Hoang added. "In the future, we are going to do brow microblading and brow tattooing, but that will be in a year or so."

Hoang explained brow lamination is an application where her staff relaxes the brow hair, tint it, brush it back into shape and wax away unwanted hairs.

"Normally a nail salon only does nails and pedicures, but because we want to go more for a full beauty salon, we do the lashes," she said. "In the near future, we will do permanent make-up as well.

"I want to be a one-stop shop that when a customer comes in … they don't have to go to different salons everyday to get their stuff," Hoang added.

She had worked at a Turkey Creek nail salon about seven years ago, then West Town Mall, but she wanted to get closer to home.

Hoang chose the Ingles location because her home is seven minutes down the road. Hours are from 9:30 a.m. to 6:30 p.m., Monday, Wednesday through Friday; from 9:30 p.m. to 5 p.m. Saturday; from noon to 6 p.m., Sunday; and closed Tuesdays.

To book an appointment, call 865-288-3058 after the business opens. She asks customers to not wear make-up when getting lash extensions. She also asks about nail conditions to schedule adequate time.