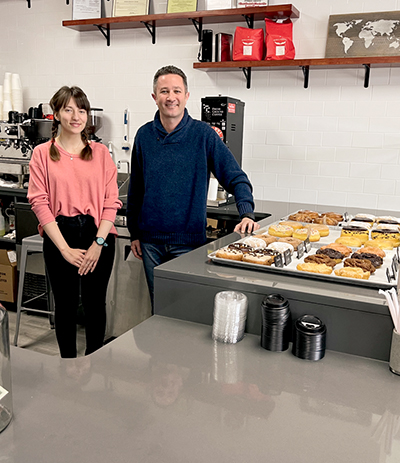 A love for coffee and a plan with college best friend Joe Sieber led Jimmy Wooten to where he is today — as co-owner of Farragut's newest donut and coffee shop, Status Dough.

The business's "soft opening" began Friday, Feb. 10, in Stonecrest Center, 10943 Kingston Pike, where The Farragut Table and Mario's were previously located. An official "Grand Opening" currently is in place.

This is the third Status Dough location for Sieber and Wooten in Knoxville, having opened their first in Bearden in 2017, then a second along Gay Street in downtown Knoxville in 2019.

Wooten met Sieber, a Chicago-area native, at the University of Tennessee, where the friends were two years apart.

Although Seiber returned to Chicago to work in his family's restaurant business after graduating from UT, "he wanted to come back to Knoxville," Wooten said. "In 2016, I visited him, and we hatched the plan to open our own business."

Doughnuts drive the majority of the foot traffic for Status Dough clientele.

"All the doughnut recipes are from Joe's family recipes," Wooten said. "They are baked fresh, every day, at our Bearden location and are delivered downtown and (to Farragut), where we sell them until they are sold out."

In the early days of Farragut's soft opening, "we did sell out a few times," he added.

Doughnuts are available in a variety of flavors and styles, from buttermilk to cake, yeast and specialty. "Our yeast is a brioche dough that is very unique," he said. "Our business is successful mainly because of our doughnuts, and the style is very unique to the area."

Coffee brings in clients, too.

Farragut resident Anthony Ragucci already was a fan of the Bearden location and has been to the Farragut Status Dough "since it opened," he said late last week.

"It's the coffee," Ragucci said about what brings him to the shop, adding he had frequented the Bearden location "almost daily. It is really good. I like that it is light roasted."

When he heard about the new location opening, "I drove by here, every day, to see when it would open, and I've been here ever since."

"I love our coffee, too," Wooten said, noting the business uses only Intelligentsia coffee, and is the only on-site brewer of that brand in Knox County.

"It is a direct trade company that works directly with about 200 farms around the globe," he added. "The current blend we use, El Gato, comes from Costa Rica and Brazil, but it depends on the time of year where the coffee originates."

Status Dough also offers specialty drink items, including Americano, Cappuccino, Cold Brew, Latte, Chai Latte ("we make our own Chai," said Wooten), London Fog, hot chocolate, Misto and Cortado, along with flavorings and oat and almond milk alternatives.

Prices begin at $2.50 for a single doughnut and $2.50 for an 8-ounce cup of coffee. A cup of coffee and doughnut combo is $5, a half dozen doughnuts are $12.99 and a dozen is $23.99.

Special pricing is offered to large groups, such as churches, wedding parties and schools.

"And we also offer a 30 percent discount for police, fire and military," Wooten said.

Wooten said he and his partner had been working on the franchise expansion into Farragut since last year.

"My dad actually found this location for us," he said. "My niece, takes karate here (Knoxville Academy of Martial Arts) so he noticed the availability."

Wooten attended Karns High School but grew up off Yarnell Road near Farragut, where his parents still reside.

Status Dough is open from 7 a.m. to 2 p.m., Monday through Friday, and from 7:30 a.m. to 2 p.m., Saturday and Sunday.

For more information, call 865-375-0886.