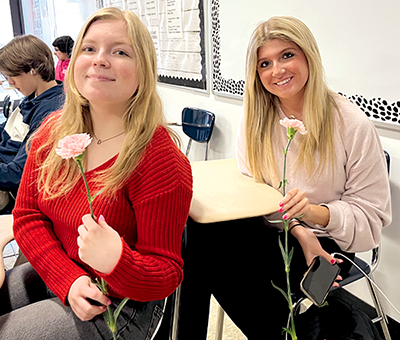 Thanks to Farragut High School principal Dr. John Bartlett, every female student received a carnation on Valentine's Day, Feb. 14.

Bartlett purchased 1,100 carnations as part of the Student Government Association's annual Valentine's Day Carnation offering, which is a fund-raiser for the organization.

"We just did not want a young lady wondering if she would get a flower on Valentine's Day," Bartlett said. 

"Our young ladies are all very special to us and they need to be treated as such."

The flowers were delivered during the school's second block of classes.

"I was delightfully surprised to get a flower, especially knowing that he paid for every girl to get one," FHS sophomore Bailey Redmond said. "It was a very kind gesture on his part to the student body."

"I really think it displays his character and intentionality and his eye for all of his students and his heart, to meet them where they are," SGA president Kate Ford said. "Farragut does such a good job of recognizing every student and making them feel seen, known and valued, and this is just another sweet example of that."

Ford said in addition to Bartlett's purchase, 900 more carnations were bought in advance by students, and estimated the overall effort raised several hundred dollars.