Handling Heritage 62-48, BHS girls, 31-0, win tourney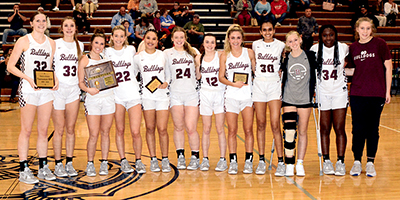 When undefeated Bearden High School's girls basketball team squared off against Heritage High School for the District 4-4A Tournament championship Monday night, Feb. 20, at Farragut High School, the Lady Bulldogs were an obvious favorite.

BHS answered the call and won 62-48 to remain unbeaten at 31-0 and extend the program winning streak to 53 games over two seasons. But the Lady Mountaineers didn't go easily, and cut a 22-point fourth-quarter lead to eight with two minutes left.

Top-seeded Bearden finished the game on a 7-1 run to seal it against No. 3 seed HHS. All seven came from senior post Avery Treadwell, who led all scorers with 27 points. The MVP of the District All-Tournament team also grabbed 14 rebounds and had six blocks in a dominant performance.

"I thought we did a good job keeping our composure when they went on runs," Treadwell said. "They're a good team; we just had to keep our heads and pull it out."

"She's been playing her best ball," Lady Dawgs head coach Justin Underwood said. "Defensively when we're able to be aggressive on the outside and they get past, she does a fantastic job of not getting into their bodies and still blocking the ball at the top."

After Bearden turned an early 9-5 deficit into a 20-9 advantage with a 15-0 run over a six-minute span from the first quarter into the second, the game was all BHS until three minutes into the fourth.

Kendall Anne Murphy's two free throws with 5:22 left in the game gave the Lady Dawgs a 49-28 lead, and the game was long over.

Except that it wasn't.

Seven straight by HHS cut it to 14, 49-35, with 4:31 left. A minute-and-a-half later, Heritage went on a 10-1 run, and with just under two minutes left, Bearden led by only eight, 55-47. Treadwell then took over and enabled Bearden to close it out.

The game was physical to say the least. Numerous bodies hit the floor and dozens of fouls were called.

"They're physical, scrappy," Underwood said. "Got to fight to win a district championship. We knew they were gonna make a run. We did a good job of bending but not breaking."

"It was pretty aggressive both ways," said Lady Mountaineers coach Rick Howard. "We finally decided to show up. I'm proud of my kids."

Bekah Gardner scored 18 for Heritage, on six treys — three in the fourth. Carsyn Swaney added 16. BHS's Natalya Hodge scored 12, as Murphy and Hodge also made the All-Tournament team.

The Lady 'Dogs will host Powell Friday at 7 in the first round of the Regional.