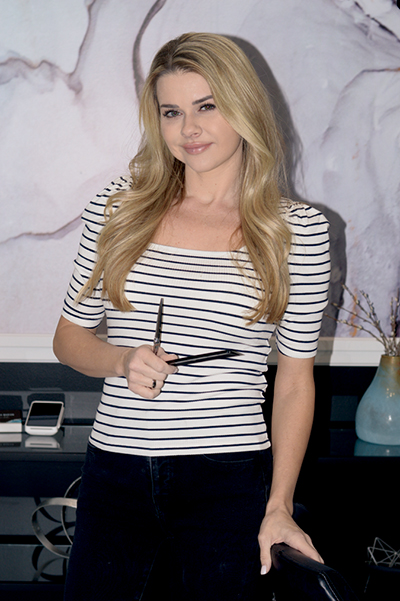 Alexa Marion Hair Studio, 12404 Union Road in Farragut, opened Tuesday, Feb. 7, with a home-based business to serve women with cuts and color.

With cuts, "I have a very wide range," owner Alexa Marion said. "From fine hair to thick, curly hair … I give 110 percent to everybody every visit because I enjoy helping people see themselves better, making them happier.

"I see hair as art, really, and the relationships with clients mean everything to me," she added. "It is a true passion."

Marion has been a hair stylist for 16 years. Of those years, she and best friend, Kim Garza, co-owned a business, Studio Bliss, in Renaissance | Farragut, for six years.

"And it's been amazing," Marion said.

Then opportunities came knocking for each of them, so they could venture on their own.

"It just unfolded for both of us," she said. "That's how I felt comfortable branching out. For both of us, it just seemed like God's plan was laid out there.

"We're still best friends," Marion added. "God just had new plans for me and for her, a new chapter, an amazing opportunity and an amazing husband (Mark Marion), who helped me make this dream become alive.

"He just told me 'make it your own,' and gave me no limitations," she added about Mark. "He let me create my own space to do anything I can imagine. I feel very blessed to have him, who I say is my biggest fan."

"It was a totally blank canvas, so she was able to design everything exactly the way she wanted it," Mark said. "And, her attention to detail (in serving a customer) is next level … a top quality job.

"I see her work and I'm around women all day," he added.

"I feel fortunate to live near Kingston Pike to have that convenience … for clients," Marion said. "I like that we're very accessible."

In the meantime, Garza is renovating a space on Kingston Pike for Salon Haven.

"It's kind of cool because we can see each other grow differently and support each other and have the best of both worlds," Marion said.

Alexa Marion Hair Studio is open by appointments only from 9 a.m. to 7 p.m., Tuesdays and Thursdays, and from 8 a.m. to noon, Saturdays.

Appointments can be made by phone/text at 865-771-0521.