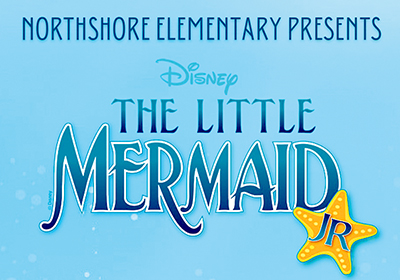 Northshore Elementary School music teachers Jessie Compton and Leona Williford, along with more than a dozen fellow teachers and administrators, are offering an enchanted trip "Under the Sea" to meet all the characters from the beloved Disney musical "The Little Mermaid" when "the Little Mermaid Jr." is presented Friday, March 3, and Saturday, March 4.

Performances, which are already sold out, begin at 5 and 7 p.m. both days. Cast A will perform Friday, March 3, and Cast B performs Saturday, March 4.

Featuring the double cast of about 135 students from third through fifth grade, the show has been in production for several months.

"We always look for shows where we can use lots of our kids," Compton said. "Over the last four years, since we started doing our musicals, it has created excitement and more and more kids want to be involved.

"We had a little over 200 kids audition for 'The Little Mermaid Jr,'" she continued. "That is why we double cast our shows, too, so we can include as many students as possible.

"The more kids we can get involved, the better. It's really hard to tell kids 'no.'"

Additionally, "More and more of our teachers have been wanting to get involved," Compton said. "We have 17 teachers, from special ed to general education, and from every grade helping with this production."

The "Little Mermaid Jr." tells the story of Ariel, her love for Prince Eric, her friends and family members who alternately oppose and help out with the romance and is based on the 1989 "Little Mermaid" Disney cartoon.

Compton said there are 12 main characters, and additional roles include sea creatures, the ocean, mermaids and many others.

"We have had students and parents helping with the set," she added.

In addition to the public shows, each cast will have the opportunity to perform for the entire student body.

"This has been so much fun," Compton said. "The kids are awesome, and we are helping build a culture here around the arts.

"It is really a big deal, especially for our third- through fifth-graders," she added.

The program began with "Peter Pan" in 2018, and also has included "Beauty and the Beast," although COVID interrupted things temporarily.

"All the kids are excited about the shows, and even those not in it — kids are excited to see it," Compton said.

"I am excited to see our school's program grow, and for more and more involvement from everyone," she added.

.