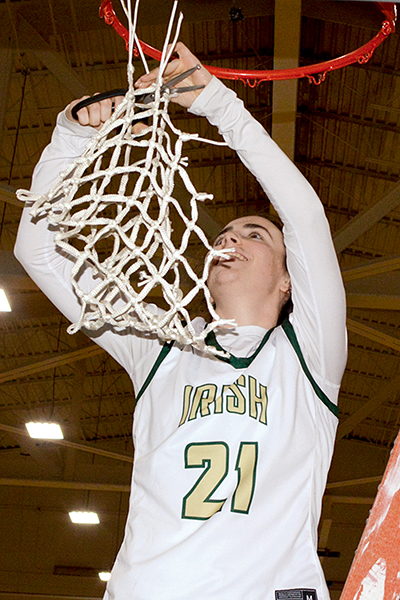 KNOXVILLE — There's nothing like coming off the bench and immediately making a huge impact — actually turning around a huge playoff game.

Guard Tinsley Walker nailed a trifecta of three-point jumpers, within a span of less than four minutes starting late in the first quarter, to finally get her Knoxville Catholic High School team going offensively. "Tinsley Walker hit three bombs for us and got us going," KCHS head coach Travis Mains said.

Held scoreless for more than five minutes to begin its Division II-AA state quarterfinal game against Brentwood Academy (16-15) at KCHS Friday night, Feb. 24. the Lady Irish used that huge boost to turn a 9-0 deficit into a 27-13 lead early in the second quarter.

The East Region No. 1 seeded Lady Irish (19-12) took charge from there, winning 53-37 and earning yet another trip to the Division II-AA "final four" state tourney in Cookeville beginning this weekend.

"Our kids are tough and resilient," Mains said. "We're building a lot of momentum; we've played well the last two or three weeks."

"We were prepared for who we were going to play, it just came to us a little slowly," said Jaz Williams, KCHS standout senior guard who scored six points.

"... It's my last game here, but I'm just glad it's not my last game all around," the senior added.

Sydney Mains, sharpshooting junior wing, led the Lady Irish with a game-high 22 points, including five three-point field goals. Caroline Kruger scored six for KCHS.