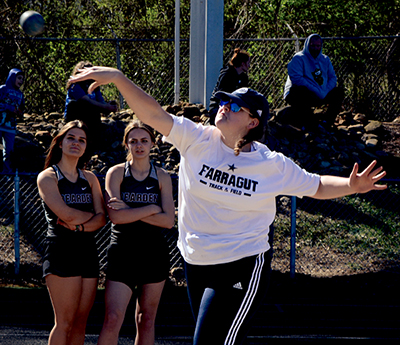 A pair of Farragut Admirals track standouts were "elite" during Tennova Farragut East Tennessee Jamboree Saturday, March 4, at FHS's Bill Parker Track.

Among a strong field of East Tennessee talent, junior Matteo Tonnos finished first in the 1600-meter run (4:24.54), "which is considered elite," new Admirals head coach Victor Wharton said.

Another "elite" Farragut performance didn't even net a first-place finish: sophomore Bryce Thompson took second in boys shot put (52 feet-07.50).

While pointing out Tonnos finished in the top five statewide in helping lead the FHS boys cross country team to a state title in November, Wharton said Thompson "is a tremendous athlete" who is a linebacker on the Ads football team.

"He's a kid who absolutely doesn't miss any workouts," the coach added.

Other top Farragut boys performers were Tony Spadafora, a junior who was champion in the 200-meter dash (23:90)

Senior Tyson Jackson finished first in discus (149 feet-01.00). "Tyson went to Junior Olympic Nationals ... this (past) summer," Wharton said.

Lady Ads at the top included junior Parker Willis, 400 run winner (1:02.18). Girls pole vault champ was senior Samantha Harvey (9 feet-06.00)

Triple jump champ was senior Emma Miller (33-09.00)

Other local top finishers

Among other girls champions was Bearden senior Laila Rudolph, winning the 100-dash (12.27). Amelia Wedemeyer, Christian Academy of Knoxville sophomore, captured first in the 200-dash (27.22).

Champs among Farragut-area boys were pole vault first-place finisher Gavin Bailey, a BHS sophomore (13-00.00). Silas Fulford, CAK sophomore, was best in 110-hurdles (16.01).