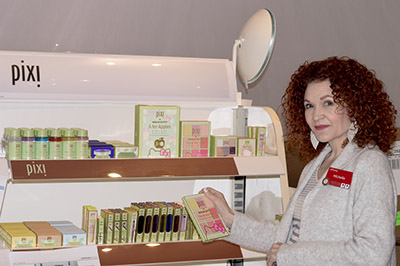 JCPenney Farragut is preparing to introduce JCPenney Beauty, a new line, and the community is invited.

"We will soft open on Friday, March 31, and we'll have our grand opening on Friday, April 7," JCPenney general manager Michelle Austin said about this location, 11534 Parkside Drive.. "The grand opening will begin at 10 a.m., and we'll have some fun stuff going on.

"The Easter bunny will be here," she added. "We'll be giving out some treats.

"We're also going to have, for the first 50 people in line, a gift card giveaway. They can win anywhere from a $5 gift card to a $100 gift card."

She noted the gift cards will be given Friday and Saturday, April 8.

"There will be one $100 gift card that will be given out Friday and one Saturday," Austin added. "So, we're excited.

"You get a lot of samples and different things also when you purchase and have the ability to try new things. "

Overall, "We're going to have over 250 unique and diverse beauty brands between the JCPenney Beauty and the salon," the manager said.

"It's going to include makeup, skincare, fragrance, hair care, salon services, wellness, men's grooming, nails and styling products," Austin added.

With its new products, JCPenney is supporting micro companies and e-commerce businesses.

"Since we've launched JCPenny Beauty, we've onboarded 100 new brands, and over 60 of those are black, indigenous, persons of color or female-owned," Austin said.

"There are 600 stores across 49 states, and we have over 3,000 dedicated beauty associates and 6,000 stylists in over Penney salons nationwide," she added. "It's a pretty big launch.

"We're excited to get it here in Farragut location. We're one of the last ones to launch it."

Associates trained in the products "will be able to talk to you about them," Austin said.

"A lot of it is very unique. There are a wide range of prices," she added.

For more information about the grand opening, call 865-288-6708.