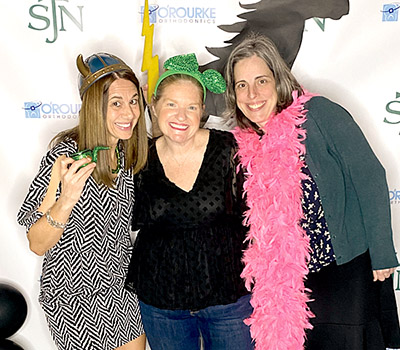 St. John Neumann Catholic Church's 2023 "Off to the Races" Derby Auction in SJN Catholic School gymnasium was a big hit Saturday, March 4.

"Just over $68,000 was raised," said Patrick Wade, SJN Church and School director of development.

"Many thanks to all who participated," stated a newsletter e-mail from the church. "Your contributions, sponsorships (and) donation of auction items help with the event, and attendance at the event helped us raise just over $68,000."

About 125 church members and guests attended the event, which included dinner, a silent auction, live auction and a "raise the paddle" fundraising activity, Wade said.

The funds will be used to purchase Chromebooks for the elementary school and a brand new integrated sound system for the gym, according to the newsletter.

"Your support will make an enormous impact on SJN students' lives and on the school and parish entities that use our gym sound system," the newsletter stated.

Presented by O'Rourke Orthodontics, volunteers who helped plan the event were: Melissa Barnett, Carrie Basile, Danielle Chandler, Hillary Chandler, Tara Cotten, Jennifer Dzermejko, Andrea Gentile, Monica Kimutis, Cassie LaFasto, Jesse McClellan, Anaida Patterson and Sarah Toliver.