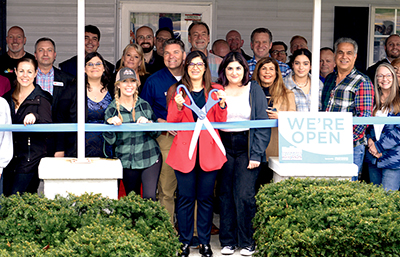 Samar Izadpanah is ready to serve the community's needs at her new agency, Samar I Insurance Agency with AAA, 800 Concord Road, in Farragut.

"Fabulous," Izadpanah said about opening her agency March 13. "I've been waiting for a long time. It's been in the works for a while."

Her agency offers AAA Auto Club Group memberships, such as roadside assistance, discounts and other benefits as well as insurance covering auto, home, life, boat, RV and any personal property and casualty need.

"We partner with certain partners so we have access to carriers, so if it doesn't qualify through AAA or if we don't offer that type of product, we partner with other carriers, so we will still write it," Izadpanah said.

However, it doesn't cover health insurance.

Izadpanah celebrated that opening, as a new member of Farragut West Knox Chamber of Commerce, which currently serves 667 businesses — mostly in Farragut and Knox County — with an FWKCC-sponsored ribbon cutting Wednesday, March 22.

"Without you, I could not be where I am today," Izadpanah said to supporters at the event.

"We're just so proud and privileged we get to do ribbon cuttings for small businesses like this because I know Samar has worked really hard to get to this point, and we can't wait to be a part of watching her grow and thrive and help our community," FWKCC president/CEO Julie Blaylock said.

"I know, especially, how hard Samar has worked … since back in August," said Wes Holley, entrepreneurial agency development specialist with AAA-The Auto Club Group. "We're very blessed to have her here."

Before joining AAA, Izadpanah was an insurance agent at another agency.

"I've been in insurance for about 10 years now," she said. "This is the first time owning my own business, though."

She started in the banking field working through college. Once Izadpanah graduated with a degree in graphic design, she decided after two years in that field that she did not like it.

"I'm more of a people person, so I left," she said. "I did corporate sales for a national gym chain in California.

"I loved helping people … and helping companies increase and boost moral," Izadpanah added. "That's when I realized I'm really into working with people and helping them with something they need."

However, she became a stay-at-home mom, then moved to Knoxville — where she had her second child — then got divorced.

However, a local insurance company had a job fair, which interested Izadpanah.

"I always had insurance but no one ever explained it to me," she said. "Once I worked in the field, I realized 'this is my career for the rest of my life. I like educating people.'

"I like the protection aspect of insurance, the consulting aspect of it and the personal service," Izadpanah added.

The office is open from 9 a.m. to 4 p.m., Monday through Friday.

For more information, call 865-312-8777 or visit aaasouth.com/samar.izadpanah She also can be contacted on Facebook and Linked-In.