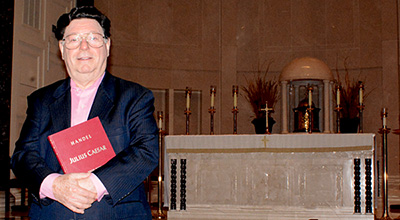 Amadeus Chamber Ensemble will present a free concert, "Hallelujah Händel! Treasures from the beloved composer of 'Messiah,'" beginning at 5 p.m., Sunday, April 16, in St. John Neumann Catholic Church, 633 St. John Court, off Grigsby Chapel Road. Reservations are not required.

Conducted by ACE's music director/conductor Brian Salesky, former executive and artistic director of Knoxville Opera Company, this is the fourth concert of its 2022-23 season.

"ACE is privileged to present the master's thrilling, inspiring and emotional music to our community," he said. "The program is devoted to oratorio, religious and operatic works by the composer of Messiah: Georg Friedrich Händel.

"In the past, most of the Amadeus Chamber Ensemble concerts have been at the Cathedral of the Most Sacred Heart of Jesus (along Northshore Drive in West Knoxville)," the maestro added.

"This is our first time performing in Farragut, and we're going to see if we can establish a Farragut following as well as the people who come to Sacred Heart."

Salesky said the ACE mission "is to provide free concerts to the community, and it's the entire community, not just a small segment. The community is not just downtown, it's not just Bearden Hill, it's everything within our county and outside of our county as well.

"Therefore, it's a good idea to perform in St. John Neumann's beautiful venue in Farragut, which would be of access to people who might not travel to the other location," Salesky added. "We want to be sure we are engaging with as many people as we can to give this gift of beautiful music."

About being part of ACE, after Salesky was not retained by Knoxville Opera, he began devoting more time to ACE.

"I'm thrilled to have this opportunity to contribute to the community," Salesky said.

"Amadeus Chamber Ensemble is my family's organization," he added. "My wife and her family started this organization about four or five years ago.

"Personally, we have always contributed. We've contributed our own funds as well. It's very important to us that these concerts are free to the community. We don't charge."

ACE is able to provide the free concerts through donations from individuals and organizations.

Salesky said he knows of no other occasion where such a classical music concert has come to Farragut. "My guess is this is the first time.

"It's always a significant opportunity when professional musicians come into a local venue, like the beautiful St. John Neumann Catholic Church, to present music, which otherwise people would not have an opportunity to hear, to experience live," he added. Performances will feature 10 of Händel's works and rarities, including selections from Samson, Rinaldo and Judas Maccabaeus.

Additionally, SJN Catholic School Choir and Knoxville Symphony Youth Choir will participate.

This concert marks the Knoxville debut of Metropolitan Opera mezzosoprano Renée Tatum and internationally renowned stage and recording artist bass Curtis Streetman.

Returning after many concerts with the ensemble are soprano Abigail Santos Villalobos, who starred in the world premiere of El Pasado Se Nunca Termina with Lyric Opera of Chicago, Houston Grand Opera and San Diego Opera and Chicago tenor Aaron Short.

The concert is made possible by support from Karen Sisk (in memory of Jerry Sisk), Nancy and Charlie Wagner, Dr. Sharon Lord, The Sood Family, Dr. and Mrs. Monroe Trout, Patricia Bible and KaTom Restaurant Supply, Margaret Goodman, Jeffrey Samuels, Alice Torbett, HomeTrust Bank, Townes Osborn and Robert Marquis, Rick Foxand Ralph Cianelli and Ruth and Joe Fielden.