Five ties in six games for HVA boys soccer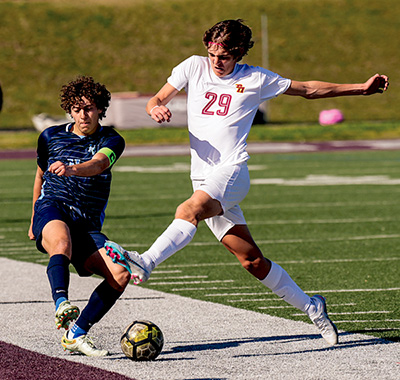 KNOXVILLE — It was a match in which each team battled near-constant wind gusts almost as much as each other. Out-of-bounds balls — very common in soccer — were often blown hundreds of yards away into a nearby field or adjoining woods.

When it was over, Hardin Valley Academy's boys' soccer match against Knoxville West ended in a scoreless tie Saturday evening, April 1, during the annual Bearden Invitational.

Fourteen teams from East and Middle Tennessee participated in the annual event, which ran from Thursday, March 30, through Sunday, April 2.

"The wind was the most important factor for both teams," Rebels head coach Nick Kim said. "Hardin Valley is one of the best teams (in the area). Both are quality teams. We're lucky to get away with the tie. Sometimes the ball just doesn't go in."

Shots on goal were significantly in the Rebels' favor — 18 to 7 — but no ball found the net. A big reason was the play of Hawks goalie Adam Leonard, who continually staved off West's close-in shots.

"West was a very strong-sided opponent," Leonard said. "Our defense showed up and I did my job to keep the balls out of the net that came through the back line."

"He had a great game," said Jessie Stephens, HVA head coach. "Definitely a lovely pickup … he's a sophomore, was with Nashville last year. Now he's here. It's just a combo of finding the right lineup."

Stephens said several of her starters were out for various reasons. "Four starters out," Stephens said. "Really proud the way others stepped up."

The tie contributed to HVA's unusual record: 1-0-5. West also remained undefeated, as it was the team's first non-win in eight matches (7-0-1).

Late in the first half — a power outage left the stadium clock inoperable — West nearly scored when center-back Wyatt Marler barely missed to the left on a header from a corner kick.

Twice early in the second half, Leonard stepped up big and held off West scoring shots.

"We have a lot to work on but the season is looking promising," Leonard said.

"The combination (of the opponent and the wind) was lethal," Stephens said. "We had moments today where we continued to grow; key pieces out but a great performance from the others."

West senior goalie Harrison Rudder left the match with a quad injury about 12 minutes into the second half. He didn't return.