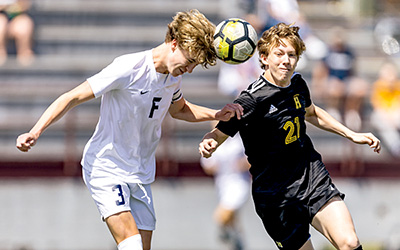 KNOXVILLE — Farragut High School boys soccer head coach Bradley Culbreth couldn't hide his frustration after watching his team lose another match.

"We've got to look in the mirror on effort," Culbreth said after the Admirals came up on the short end of a 1-0 decision against Webb School of Knoxville Thursday, March 30, on the opening day of the 2023 Bearden Invitational at Turner-Allender Field. "That's as plain as I can say it.

"Too much individual play. We've got to own it. We've got to do better as coaches," he added. "They've got to do better as players and we'll try to regroup and come back to work."

Farragut dropped to 0-5 after a 2-0 BHS Invitational loss to Notre Dame Friday, March 31, and a 2-0 setback versus Hendersonville Saturday, April 1.

Webb 1 Farragut 0

Webb (5-1) scored the lone goal of the match on a bizarre play, as sophomore forward Greyson Webb fired a shot from just outside the 18-yard box that went past FHS starting goalkeeper Ahmad Messidi and into the back of the net.

Webb admitted that his marker came on a strange sequence. "I think they kind of just didn't know what to do," he said. "Their center back played it back to the keeper, and then he tried to clear it, and it just kind of got stuck on my hip and dropped down.

"I don't think they knew where the ball was at that point when I got it," Webb added.

Meanwhile, Culbreth was disappointed with his side's lack of communication on the play that resulted in the lone goal of the match.

"Somebody played a hospital ball and gave it to them like an injured duck. Nobody communicated," he said. "Just an error that you can't make. ... You can't make mistakes like that and expect to win."

Both teams were shorthanded. Farragut is riddled with injuries while the Spartans were without two senior starters and leaders who were away on academic commitments.