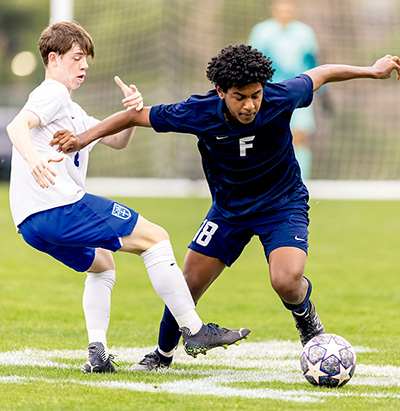 Farragut High School's boys' soccer program has a long history of success. But after its first six matches this year, that would have been hard to recognize: the Admirals started 0-6.

Thursday evening, April 6, at home, FHS's losing streak was quickly sent packing, as the Admirals easily defeated Christian Academy of Knoxville 4-0 in a non-district match.

"We've played good enough to win another match, we just haven't got it," FHS coach Bradley Culbreth said. "It was good to get that win tonight and take that pressure off," adding the time off after this win was "a good weekend for them to reset."

"We got some great coachable moments," said Warriors head coach Bobby Deets, whose team fell to 3-4 overall. "We can go back and review video; we'll go through it and go from there. What I'm looking for is accuracy of shots. It's not the quantity, it's on target is what I'm looking for. Good match for Farragut."

Farragut scored its first goal fewer than four minutes into the match when freshman Lincoln Unger punched it in on an assist from sophomore wing Zack Guigou.

With just under 25 minutes left in the half, senior center midfielder Eric Sonnenschein set up Jack Bukovitz, also a senior center midfielder, for a goal. The play began with a corner kick.

Sonnenschein gave the Admirals a 3-0 lead when he scored on a long kick with 18:20 left.

"Great win in the middle by Ty Finnegan, one of our best leaders on the team," Sonnenschein said. "I was able to beat a guy, get an angle and drive it home with my left foot. It feels great to finally be able to put all the pieces together and get a win against such a good team like CAK."

Barely a minute-and-a-half into the second 40 minutes, Guigou completed the scoring when he stole the ball, then artfully made a long scoring kick from a sharp angle.

Farragut (1-6) dominated time of possession and led in shots and shots-on-goal. The Admirals had seven shots, six on goal. The Warriors had four shots, three on goal.

"Their demeanor hasn't gone down," Culbreth said. "We're not where we need to be, but we'll be ready by May. No one has hit the panic button."

The Ads (0-1 District 4-3A) face Knox Catholic at home beginning around 7 p.m., Friday evening, April 14.

The Warriors (1-1 in District II-A, East Region 1), face Berean Christian on the road beginning around 7 p.m., Friday.