Choto Marina offers comprehensive service to members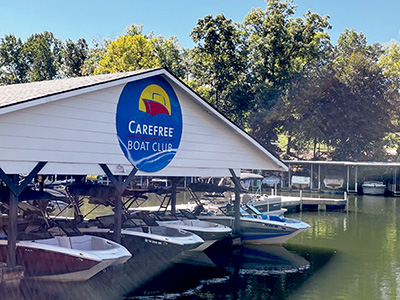 While several boat clubs exist in and around Farragut, only one has its own marina and seasonal restaurant.

Carefree Boat Club operates from Choto Marina, owned by area native Justin Church, his wife, Shanna, and his father, Dwight Church. They also lease the property for Cheers at Choto, set to re-open for the season at the end of April.

"That is great, for our members to offer the comprehensive service of a restaurant, too," Justin said.

The trio purchased the marina in April 2021 and decided to affiliate with Carefree Boat Club last year.

"The previous owners had been part of (another) boat club, but we made the best decision for our club when we swapped over to Carefree," said Justin, noting Carefree has more than 126 locations throughout the United States, and even has affiliates in the Caribbean, the Philippines and Central America.

"Membership gives you privileges at the other locations," he added. "There are five other locations in East Tennessee — Chickamauga, Chattanooga, and three in the Tri-Cities area.

"But one of the more popular clubs is in Hilton Head, South Carolina. I know we have a lot of folks in the area who vacation there; and as a Carefree member you can reserve a boat during your stay."

What sets Carefree apart locally is the Church trio already own the marina itself.

"We aren't having to rent space for the Club portion," Justin said. "We can add onto our Club as needed and can convert a regular boat slip to the Boat Club."

Carefree currently has 24 boats for its members at the popular marina, which also has more than 300 occupied slips among private boat owners. It offers two different entry packages: $6,500 for all boat access, including wakeboard boats, or $5,000 for pontoon, tri-toon and double-decker styles.

Comprehensive monthly fees are either $350 or $400, depending on the entry package.

"We take care of everything — insurance, maintenance, cleaning — even fueling," Justin said. "We give you a boat full of gas, then you bring it back to us and we take it to our fueling dock and fill it up for you, saving you about 30 minutes of time.

"Our boat club is definitely the way to go," he added.

Carefree has an impressive fleet of name-brand, high-end boats, from Searay to Cobalts, Mastercraft and Barletta — none of which are more than two years old.

Another differential is that the marina is located on the main channel of Fort Loudoun Lake.

"We are right across from Prater Flats, where a lot of people like to anchor to swim and party," Justin said.

"We are also have a limited 'no wake zone,' which saves boaters time on accessing the waterways."

Memberships currently are available. For more information, visit https://carefreeboats.com/locations/knoxville/ or call 865-320-3040.